GMC
Hummer EV

's Battery is Heavier Than a Mazda3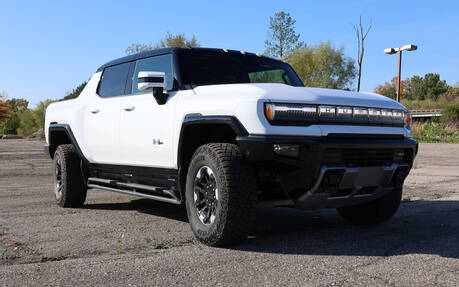 With deliveries of the GMC Hummer EV now underway in the U.S., we keep finding some shocking details about the new electric pickup from General Motors.
Not only does the top-line Hummer EV Edition 1 tip the scales at 9,063 pounds, but a document filed with the U.S. Environmental Protection Agency this week reveals that the 212.7kWh battery (usable capacity) accounts for nearly a third of that weight.
At 2,923 pounds, it weighs as much as a standard Mazda3 sedan. In fact, it's heavier than most compact cars and even many small crossovers like the Hyundai Kona!
The Hummer EV Edition 1, which will have a limited run and sold out a long time ago, is packed with virtually every available feature and option. Similar to the EV3X model, the battery feeds three electric motors generating a combined 1,000 horsepower and accelerating from 0-100 km/h in just over three seconds.
So, despite coming back from the dead as a full EV, the Hummer is still a monster in terms of size, weight and capability. Its estimated range of up to 529 kilometres (based on the latest GM figures) sounds interesting but not nearly as much as it could have been with a lighter pickup.
As a reminder, the first Hummer EV units for Canadian customers are scheduled to enter production this fall, though most will arrive in the spring of 2023. Pricing ranges from about $89,000-$126,000.
The Hummer EV pickup will be followed by the Hummer EV SUV, then the Chevrolet Silverado EV and GMC Sierra EV, also to be manufactured at Factory ZERO. Let's not forget the Cadillac LYRIQ luxury crossover, which will come from Spring Hill, Tennessee, starting in the first half of 2022.
Watch: GMC Hummer EV is Officially Revealed