Meet Laura Klauser, GM's Sports Car Racing Program Manager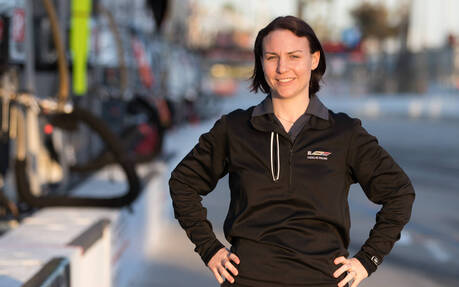 Laura Klauser was passionate about cars long before she purchased her very first ride, a blue Ford Escort ZX2. With an engineering degree, solid experience and an implication in the Formula SAE program, she has taken various key engineering positions at General Motors. After working on several production car programs within the company, Klauser jumped over to the racing side to lead teams to victory at the Rolex 24 in Daytona.
Laura has a highly technical mind – she's a genuine gearhead. But more importantly, she is devoted to and passionate about everything she works on. Today at just 35 years old, the 24 Hours of Le Mans' podium is in her sights and she's determined to show the world what Cadillac can accomplish in one of racing's toughest environments.
The Car Guide sat down with Laura Klauser to discuss her passion for cars and the day-to-day racing stuff. But she also had some very valuable insight to share with young women who want to follow a similar path.
CG: You've been into cars for a while now. What would you say draws you to them?
LK: I grew up on a small farm town in Maryland. Everything was remote; you couldn't walk down the street to go to a 7-Eleven or a drug store, you had to get into your car and drive. Being able to own your destiny and control what you were up was key, so the concept of having a driver's licence was super important to me.
That's the technical side of things.
Then comes the love of going fast and looking great (a car is a fashion statement, after all) and that really attracted me. I bought my first car with my own money after learning to drive on a tractor, and it was an accomplishment for me, I worked really hard for it and earned it.
That car was unfortunately totalled when I started college.
CG: You've worked on the production vehicle side of things at GM. What was your "eureka moment" that made you jump over to the racing side?
LK: I got interested in racing in college when I was involved in the Formula SAE program. I loved the competitiveness of it, and loved the team that I worked with. This was a great addition to my mechanical engineering degree - I'm still involved in the Formula SAE program to this day.
One day, I saw a job posting for a racing program director. At the time, however, I didn't have enough years and experience within the company to apply. But I was happy to know this type of career was possible at GM, and I put it in the back of my mind and kept and eye out for opportunities.
In 2016, a good friend of mine on GM's racing side told me to look out for a job posting and that I should apply!
CG: What are the main differences/challenges between working on production cars vs. working on race cars?
LK: In racing, the timeline on everything you're working on is usually very short. The deadline is basically the green flag and the race will start whether we're there or not. On the production side, the timing is still aggressive, but we're talking years vs. months. And if we run into a major issue like parts shortage, we can move things around to make sure we launch with the best product.
In racing, you don't have that luxury.
So the biggest difference is timing, and the fact that we don't get to own that timing. On the production side, GM has more control over what's going on.
What's good is that it makes you think faster and forces you to be clever at all aspects. It also challenges you to do more with less. And that can help the production side.
CG: What makes you so passionate about racing? (Beyond the cars)
LK: I like the excitement, the anticipation as you're getting ready for the race. It feels different, it's a mix of butterflies and preparation, and hoping for that hint of luck. Once the green flag falls, everybody knows what they need to do.
In endurance racing, this thrill lasts for 24 hours straight and at some point your body realizes you should not be doing this !
Once the checkered flag drops, it's either a release of the excitement that you won, or a bit of disappointment. But also if you didn't win, you know that you gave it your all. It's an emotional rush all day.
This might sound corny, but it kind of reminds you of life, doesn't it?
CG: Can you tell us about one of the biggest technical challenges you've encountered?
LK: One of the big challenges we had during the Cadillac Dpi program revolved around engines overheating. There was a little bit of flex in the engine and the head and the block would separate, which would allow combustion gasses to get in the cooling system.
It was a big undertaking to make some design changes; it's not something you can simply "Band-Aid." The race schedule was what it was – we didn't have time to design new parts that fast. So we had to work with the teams to find solutions to mitigate the effects on the short term.
Simultaneously, we had to gather every party involved including suppliers to see what changes needed to be done, and if a prototype had to be made for more testing, etc. In this case, we did everything virtually and it worked out great.
We fixed the issue and it never came back. It's been three years now!
That was an effort between with GM and our engine builder. This is something that betters the production side, too. It was a great opportunity to have that tech transferred because although our race engines are unique, they are all part of our family of engines at GM.
CG: What are your expectations for Le Mans and the LMDh prototype ?
LK: This could be the last year for the Corvette as it is designed right now; we're working on a new GT3 program that will be out shortly. But we want to make sure we give that 'Vette a proper send-off, like bringing home the win and parking that thing in the trailer!
2023 with the prototype should be really exciting because Cadillac hasn't been at Le Mans since the early 2000s and we have never claimed a podium there. We're ready to compete with all the big names that have signed up in that class.
CG: There are a lot of passionate young girls and women out there who are interested in making it in the automotive world. What advice and insights would you give them?
LK: Passion is everything. And if you have it, you're already ahead. It'll drive you to figure out a way to get what you want. Even if you get knocked down a couple of times, passion is what picks you back up and what makes you try and start again.
And the other thing is to "go for it". There are so many things you can do in automotive, from communications and journalism to driving and being part of a race team, and everything in between. Trying everything out when you're younger is also important. Meet as many people in the business as you can and develop relationships.
There are so many of us in the auto industry – but the ones who genuinely love cars are a tight clique. Sharing that passion makes it easier to benefit from other people's knowledge and will definitely help when comes the time to choose a degree, apply for a job as well as in many other areas.