2022 RAM Rebel G/T: Descendant of the Dinosaur
You know how chickens are direct descendants of the dinosaurs? …
So, the 2022 RAM Rebel G/T (read: chicken) is a version of the super exciting and jacked-up Rebel RTX (read: dinosaur)... that's supposed to be a cheaper, more affordable version that offers up the aesthetic and road presence, but not the entire soul of the RTX.
But, does it?
It's not the first time an automaker has offered a "lesser" version of a trim level to appeal to those who may not want to dish out all the dollars, but who still want the look and feel of the top trim (BMW's M-Sport packages come to mind). So, this year, RAM has introduced a G/T package for their 1500 Rebel Sport models that is almost a TRX, but not quite.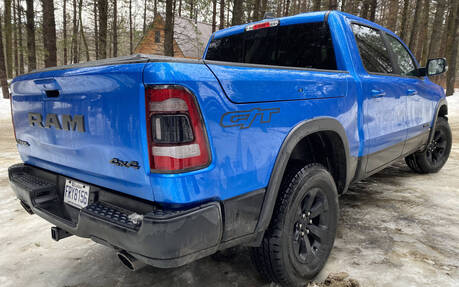 The Tiny Raptor to the T-REX
So, what did RAM do to make the Rebel G/T the "same" but not quite? Well in terms of looks and aesthetics, the G/T is pretty spot on - but there are a few differences. For starters, despite sporting the same awesome blue paint job and black decals, my G/T was lacking a front hood scoop and more exaggerated fender flares. Also, the G/T badging on the side is much less "in your face" when compared to the giant TRX blazoned across the side of the bigger brother.
The suspension is also much less aggressive, and has the G/T sitting lower than the TRX. There is no off-road stuff hidden in there, and the TRX was not equipped with the RAM box extras on either side of the bed.
To be fair, we don't believe the G/T should look identical to the TRX, because looking the part is more than half the battle right? And if the big boy is going to cost "so much" more than it most definitely has to be different overall, right? Think of the Ford F-150 Lariat vs. the Raptor… you know what we mean.
Inside, the G/T is every bit a pickup and fairly similar to the TRX save for the suede accents and contrast stitching. Typical pickup fare is present with tons of storage and space and a backseat that's both comfortable for passengers and practical for items, with seats that flip up to give you a huge amount of storage.
Our only gripe with the interior was the onboard HMI. This may have been just an isolated incident with this particular model, but the system continued to crash throughout the week. Apple CarPlay is easy enough to hook up, but it will drop mid-drive (when you are trying to follow directions on Waze for example) and will not restart unless the truck is turned off and turned on again. Kind of hard to do when you are on the highway … the screen also often went black or stopped responding entirely. And again, would not work again until the vehicle was turned off and on again.
While this may be isolated to this particular RAM, it was obnoxious and put a sour taste in our mouths for a system that is normally so easy to use and well liked. Especially with such a large and easy to see/use screen, which is a shame.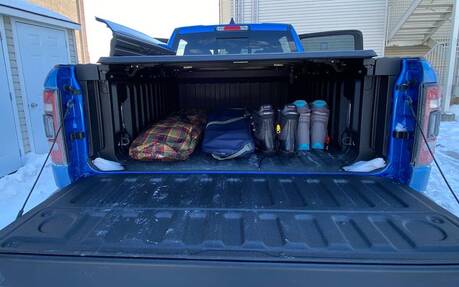 Don't Underestimate the Distant Cousin …
Now, my parents own chickens. I visit them often. I collect eggs and I feed them snacks on occasion and I am here to tell you that they are most definitely tiny raptors - they are fully descendants from the dinosaurs. While why are "birds" they are by no means weak or insufficient.
Chickens eat eggs as a snack. Think about that. They also love turkey bacon at night. Again, think about that.
Now, consider that the RAM G/T is the chicken to the TRX dinosaur.
Now it's all starting to make sense, right? Despite not harbouring the same power and pizzazz as the Big One - the G/T gets the job done! Equipped with a 5.7L HEMI V8 as well as an eTorque system, this truck pushes out 395 horsepower and 410 lb-ft of torque PLUS an additional 130 lb-ft with the eTorque system. That eTorque system also helps reduce the fuel numbers.
Now, here's where it was a little dicy for me. While RAM claims this particular version of their 1500 can get as low as 12.1L/100km, we just didn't see it. No matter how hard we tried.
When it was picked up, the estimated fuel efficiency on the dash was sitting at a whopping 22.1L/100km. SHOCKING. And after a week of barely driving more than 5-10km in the city, and well over 600+km of highway driving, we were only able to get that number down to 16.3L/100km.
And while that is super good for a large pickup like the RAM 1500 (especially on winter rubber and in 4H for traction in deep snow), it's still a little painful when it comes to filling up at the pumps given the current state of the world.
When it came time to top off the RAM's gas tank - we dished out $150 for just 74L of gas.
Ouch.
More Affordable Monster - Actually?
The biggest selling point for the RAM 1500 Rebel G/T is it's affordability over the TRX. But, honestly, when it comes down to the extras that make the G/T as close to the TRX as possible … the price difference is marginal at that level.
Spec'd out the way we had our G/T, the final cost sat just below $90k. A brand new TRX starts at just over $100k. And honestly, if you can afford a $90,000 pickup, then you can most certainly afford one at $105,000k. So, the biggest selling point then becomes the eTorque for more pull, and supposedly better gas mileage (which we didn't observe).
We are huge fans of the RAM lineup, but this one seems a bit like the Silkie edition to the poultry hereditary line from dinosaurs: Aesthetically pleasing, able to lay eggs (albeit much smaller), but unable to handle itself in the great outdoors, and in need of constant supervision.
Test drive report
Test model

2022 Ram 1500

Trim level
Rebel G/T
Price range
84 540 $
Price as tested
84 540 $
Warranty (basic)
N/A
Warranty (powertrain)
N/A
Fuel economy (city/highway/observed)
13,4 / 10,5 / 16,3 L/100km
Options
N/A
Competitive models
Chevrolet Silverado 1500, Ford F-150, GMC Sierra 1500, Ram 1500 Classic, Toyota Tundra
Strong points

Looks tough
Great exhaust note
Practical

Weak points

May as well pony up for the TRX
Price of fuel at the moment
No side rails for easier entry

Editor's rating
Fuel economy
Now, we see the numbers from RAM, but we just couldn't get them there...
Comfort
Great suspension feel on even rough roads, and super big comfy seats
Performance
Not overly powerful, but highly capable and in 4H this thing does well in deep snow
Infotainment
The constant blacked out screen and dropping of Apple CarPlay definitely lowered this score
Driving
It drives like you'd expect a pickup to drive: Big and in your face
Overall
At this point, we'd spend the extra for the TRX