Alberta to Stop Collecting Provincial Fuel Tax April 1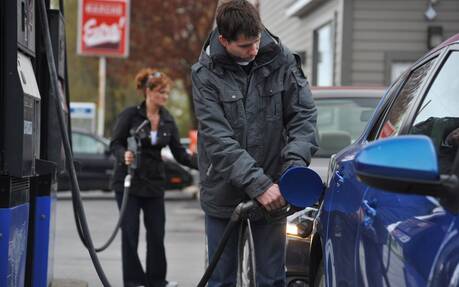 While Alberta currently has the lowest gas prices in Canada according to GasBuddy.com, those prices continue to skyrocket with the Russian invasion of Ukraine and other supply issues. When will the madness end? Nobody knows for sure, but there's some good news for drivers in the province.
Premier Jason Kenney announced that, starting on April 1, the government will stop the collection of the 13-cent provincial tax on gasoline and diesel (plus 0.65 cents GST). And no, this is not an early April Fools' Day joke. 
On the flip side, the federal carbon tax rate on gasoline is set to increase again on the same date, from just under 9 cents per litre to just over 11 cents per litre.
"We've heard Albertans' concerns about the rising cost of living loud and clear," Kenney said. "While the federal government is set to increase the carbon tax April 1, Alberta's government is taking the opposite approach and stepping up to offer relief. Stopping the provincial fuel tax puts money back in the pockets of Albertans when they need it most."
The measure will cost approximately $1.3 billion.
The government will review the collection of the fuel tax on a quarterly basis and, if required, consider reinstating collection in stages, based on the average price of West Texas Intermediate (WTI) over a number of weeks. That means the earliest date the fuel tax can return is July 1.
Alberta will also provide $150 electricity rebates to help people pay for the high bills they faced this winter. More than one million homes, farms and businesses are expected to receive a $50 monthly rebate for the months of January through March. The government will work with utilities and regulators to determine exact details, including rebate timing.
In case you need fuel-saving tips, you're just one click away.