Electric Mustang by Charge Cars Ready for Production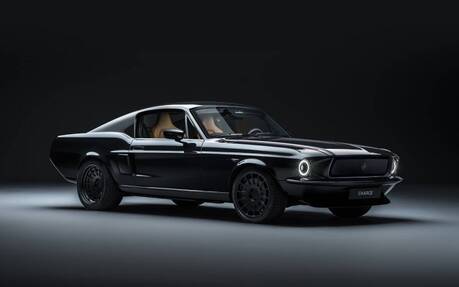 Because it sits on a licensed replica shell made of composites, the 1967 Ford Mustang Fastback you're looking at isn't technically a restomod – or electromod, in modern terms. But that doesn't make it any less gorgeous. It was assembled by the team at Charge Cars, a firm based out of London England that employs several of the country's Formula 1 and luxury automaker's engineers.
And this week, Charge Cars officially unveiled the production model of what we wish we would love to call a proper electric Mustang (sorry Mach-E).
Under the modern shell with classic lines, you'll find a 64-kWh battery powering two motors providing all-wheel drive. The total output is 536 horsepower along with a whopping 1,061 lb-ft of torque.
According to the company, this Mustang is also equipped with safety aids like ABS, forward collision warning, and automatic emergency braking. Charge Cars also modernized the driving aspect with a set of driver aids which include adaptive cruise control and others.
The range has been estimated at 322 kilometres. But since the car was entirely developed in Europe, we're assuming the WLTP cycle was used and the actual SAE range in our part of the plant should hover around 250-275 kilometres.
Inside the carefully curated cabin that seems to incorporate a clever mix of refined materials and textures, drivers will find a fully digital instrument cluster and a custom infotainment system accessible through a large screen.
The "boutique" automaker plans to limit production at 499 examples. The price is £350,000 a pop – that's close to $600,000 in Canadian dollars. Reservations are open!