2022 Hyundai
Santa Fe

PHEV: A Tale of Two Santa Fes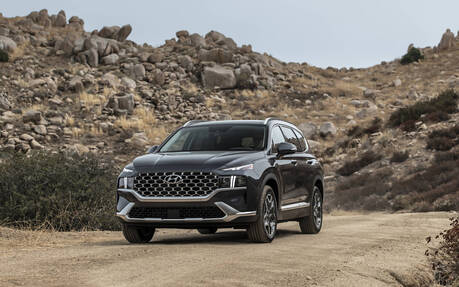 When the original Hyundai Santa Fe arrived in late 2000, it was the Korean automaker's first SUV to be designed for North American drivers. Despite being a tad smaller than the current Tucson, it quickly proved a compelling alternative to the Ford Escape and the like.
Two decades later, the Santa Fe is the third most popular Hyundai model in Canada. It's also much bigger. Slotting between the compact Tucson and the three-row Palisade, the Santa Fe now takes on midsize SUVs such as the Ford Edge.
For 2022, the fourth generation adds a pair of gas-electric variants including the Santa Fe Hybrid and Santa Fe PHEV. We spent some time with the latter to find out how good it really is.
To Plug in or Not?
In response to growing demand and changing consumer needs, Hyundai created the Santa Fe Hybrid for drivers who want better fuel economy, and the Santa Fe PHEV for those who can use its zero-emission range for daily commutes, similar to the Toyota RAV4 Prime or Mitsubishi Outlander PHEV. 
In both cases, a small-displacement gasoline engine is paired with a battery-driven electric motor, easing the burden on the former and resulting in significant savings at the pump. The PHEV variant boasts a larger-capacity battery enabling pure electric driving.
Different Specs
The two electrified Santa Fe models feature a turbocharged 1.6-litre four-cylinder engine rated at 177 horsepower. The regular hybrid also gets a 44.2kW electric motor and 1.49kWh battery for a combined system output of 226 horsepower. However, in the Santa Fe PHEV, the motor produces 66.9kW and is fed by a 13.8kWh battery, increasing output to 261 horsepower.
When operating in hybrid mode, the Santa Fe Hybrid and Santa Fe PHEV prove fairly efficient with combined ratings of 7.4 L/100 km and 7.2 L/100 km, respectively, according to Natural Resources Canada. That's a 25-30 percent improvement over the conventionally powered Santa Fe, either with the naturally aspirated or turbocharged 2.5-litre engine (9.9-10 L/100 km).
How Much Range?
Making the Santa Fe PHEV even more attractive, of course, is the ability to travel up to 50 kilometres without burning any gas. It's great if you work within a 25-km radius from your house, or more if you can plug in at work. In any case, you should seriously consider installing a 240V (level 2) domestic charger to speed up the process of charging at home.
According to the Santa Fe PHEV owner's manual, replenishing an empty battery takes 2.5 hours on 240V power. Curiously, there's no mention anywhere of charging times when using a standard 120V power outlet. During our test drive in the middle of February, we had the vehicle plugged in for about 12 hours and that was only good enough for 40 kilometres or so of EV range.
So, 2.5 hours or more than 12 hours—how long are you prepared to wait to have a full battery? We think we know the answer to that question. And while 50 km of EV range in the summer is realistic, you might get only half on particularly cold winter days. At that time of the year, it's best to expect the Santa Fe PHEV to return similar efficiency as the Santa Fe Hybrid.
Do the Math
Electrification typically doesn't come cheap. Hyundai's two hybrid powertrain options are available on two 2022 Santa Fe trim levels starting with the Preferred at $36,699. The hybrid adds $2,900 and the PHEV costs $8,500.
In Luxury trim, which retails from $44,099, the Santa Fe comes standard with the Trend Package (panoramic sunroof, leather seats, power-folding rear seats and more) and the regular hybrid powertrain. If you want the PHEV treatment, you must spend another $4,600.
Remember, though, that the Santa Fe PHEV is eligible to a $2,500 rebate from the federal government as well as select provincial incentives, making the pill a bit easier to swallow.
Oh, we forgot to mention that both hybrid variants feature all-wheel drive and can tow up to 907 kilograms (2,000 pounds), exactly like the base Santa Fe Essential equipped with a naturally aspirated engine. Get the turbocharged mill if you want to tow 1,588 kilograms (3,500 pounds).
To make this a smart purchase and get the most bang for your buck, you need to consider your daily driving habits. A gas-powered Santa Fe can make more sense for certain drivers. Also, the PHEV model has limited availability, so you might have to wait longer to get one.
Test drive report
Test model

2022 Hyundai Santa Fe

Trim level
Ultimate Calligraphy TI
Price range
$33,699 – $48,699
Price as tested
47 799 $
Warranty (basic)
5 years/100,000 km
Warranty (powertrain)
5 years/100,000 km
Fuel economy (city/highway/observed)
11,0 / 8,5 / N/A L/100km
Options
N/A
Competitive models
2022 Toyota Venza, 2022 Kia Sorento PHEV SX, 2022 Toyota RAV4 Prime XSE Technology Package AWD, 2022 Mitsubishi Outlander PHEV GT S-AWC
Strong points

Attractive fuel economy and range
Spacious and versatile interior
Smooth ride

Weak points

High price
E-motor not as efficient in winter
PHEV model has limited availability

Editor's rating
Fuel economy
Comfort
Performance
Infotainment
Driving
Overall