All-New 2023 Aston Martin V12 Vantage Marks the End of an Era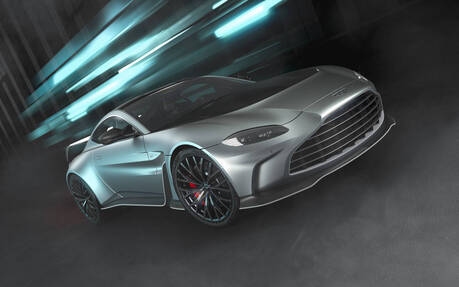 Aston Martin has brought back the ultimate expression of the Vantage, but this one has a bittersweet taste since it will be the last of its kind before the company turns to electrification.
And if you're not one of the 333 customers who were lucky enough to reserve a copy of the 2023 V12 Vantage, Aston Martin's latest dream car will be just that—a dream.
"Every great sports car brand has a hero car. For Aston Martin in more recent years that car has been the V12 Vantage," said Aston Martin CEO Tobias Moers. "Now it is time to bring this bloodline to a close, fittingly with the most spectacular example yet—the fastest, most powerful and most dynamically capable V12 Vantage ever."
The heart of this sensational coupe is a 5.2-litre V12 engine that delivers 690 hp at 6,500 rpm and 555 pound-feet of torque from 1,800-6,000 rpm. As a result, acceleration from 0-60 mph (97 km/h) is achieved in just 3.4 seconds on the way to a top speed of 320 km/h.
Power is sent to the rear wheels through an eight-speed ZF automatic transmission, which is specially calibrated to enhance shift speeds and driver interaction, and a mechanical limited-slip differential. Meanwhile, the 2023 V12 Vantage benefits from a new adaptive damping suspension system including new anti-roll bars, bushes, and spring and damper assemblies. Suspension spring rates have been increased by 50 percent at the front and 40 percent at the rear.
These changes are supported by a new steering calibration and a standard Carbon Ceramic Braking system with 410mm front and 360mm rear discs. These brakes not only maintain consistent braking performance at high temperatures and resist brake fade, but they also save 23 kg of weight when compared to steel brakes. 
Speaking of which, the many weight-saving measures of this V12 Vantage include carbon fibre bumpers, hood, front fenders, side sills and rear deck lid, a lightweight battery and a special centre-mounted twin-exit exhaust system which alone saves 7.2 kg compared with the system fitted to the Vantage. New 21-inch alloy wheels in a Satin Black finish are available, again with the option of a lighter design that removes another 8 kg. They're wrapped in high-performance Michelin Pilot 4S tires.
Aesthetically, the new V12 Vantage's jaw-dropping bodywork is widened by 40 mm to accommodate a wide track chassis optimized for cornering performance and stability. The front grille is also 25 percent larger than that of the V8-powered Vantage, and the standard aerodynamic package includes a full-width front splitter generating additional downforce. Optionally, the rear wing can be deleted for a sleeker silhouette.
As for the cockpit, the V12 Vantage retains the layout of the current Vantage except for the Sports Plus Seats trimmed in full semi-aniline leather. Available new carbon fibre performance seats are said to save 7.3 kg without compromising comfort. And of course, each unit can be individually tailored through the brand's bespoke customization service, Q by Aston Martin.