Honda Invests $1.4B to Mass Produce Hybrids in Ontario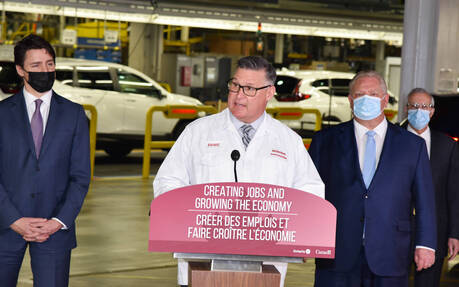 Honda's assembly plants in Alliston, Ontario are currently being retooled and upgraded to mass produce hybrid vehicles. The company today announced that the transformation will require an investment of $1.38 billion over six years. The governments of Canada and Ontario will each provide a contribution of $131.6 million.
The plants will implement new and innovative technologies, processes, supply chain and vehicle research and development programs as a part of Honda's goal to reach zero emissions by 2040.
As we reported in January, the next-generation 2023 CR-V Hybrid will be the first in line. Production is scheduled to start this summer. Honda says Alliston will become the lead manufacturing site in North America for this model, ahead of the Greensburg, Indiana assembly plant which has been making the CR-V Hybrid since 2019.
"This represents an important milestone for Honda as we move forward in our ambitious vision to make battery electric vehicles represent 100 percent of our North America vehicle sales by 2040," said Jean Marc Leclerc, President and CEO of Honda Canada. 
Honda's vehicle lineup has the lowest overall fuel consumption and emits the lowest greenhouse gas (GHG) emissions among internal combustion engine manufacturers in Canada, but faced with growing demand for hybrids and EVs the company has no choice but to do more.
New hybrid products will reduce GHGs by 30 percent compared to traditional gasoline-powered vehicles, Honda said, though production targets for the 2023 CR-V Hybrid in Ontario remain unknown at this point.
Right now, Honda's plants in Alliston have the capacity to produce more than 400,000 vehicles (including CR-V and Civic models) and 190,000 engines annually. While today's announcement made no mention of it, a Civic Hybrid could join the lineup in the near future.