New Honda Civic Hybrid Unveiled… for Europe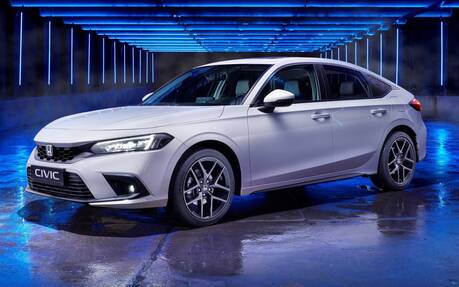 While Honda recently announced a $1.4 billion investment in its Ontario plants to start building hybrid vehicles in Canada, namely the upcoming CR-V Hybrid, a lot of people are wondering when the company will announce a new Civic Hybrid.
After dropping the Insight for 2022, Honda no longer has a direct rival for the Toyota Prius and Corolla Hybrid as well as the Hyundai IONIQ and Elantra Hybrid. And remember that the Clarity is gone, too. For an automaker that aims to electrify two-thirds of its global sales by 2030, new solutions are required and they need to come sooner rather than later.
Lo and behold, Honda is introducing a next-generation Civic Hybrid, although that one will be going on sale in Europe and not here.
With this addition, every model in Honda's European lineup now offers a gas-electric alternative. In the case of the Civic, the system is different from the one in the Jazz (the small hatchback we used to call Fit) or HR-V, and closer to that of the CR-V. An Atkinson-cycle 2.0-litre four-cylinder engine combines with a pair of small electric motors up front and a lithium-ion battery pack located under the rear seats.
Power, which is of course sent to the front wheels, is rated at 181 hp along with 232 lb-ft. of torque. That's substantially more than the compact hybrid sedans we mentioned above, and also better than our gas-powered Civic, which tops at 180 hp and 177 lb-ft. (save for the sporty Civic Si with 200 hp).
Interestingly, drivers can choose between Eco, Normal, Sport and Individual drive modes, but the car has a new power control unit allowing it to automatically switch between power sources (EV, hybrid, gas).
As for styling, this European Civic Hybrid looks almost identical to the Civic Hatchback we know. The only differences are the "e:HEV" badge on the trunk lid and lack of visible tailpipes. The interior is the same, too, while safety content naturally includes the Honda Sensing suite of advanced driver assistance systems.
If and when Honda finally decides to bring back the Civic Hybrid in Canada (the last one dates back to 2015), the technology would most certainly be different, but we predict a number of customers would buy one—not just because of the Civic name, but also because of how high and unpredictable gas prices are these days. Keep following The Car Guide for all the latest news about Honda.
Watch: 2022 Honda Civic Walkaround