Electrify Canada Offers Lucid Air Drivers Free Charging for Two Years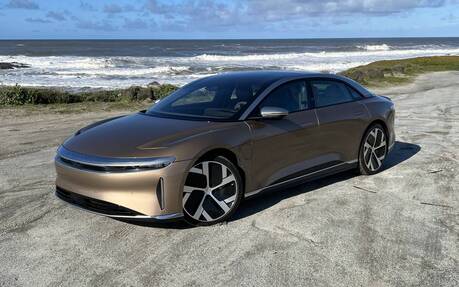 Everyone loves free stuff, even drivers who purchase $100,000+ EVs. Today, Electrify Canada has announced an agreement with Lucid Motors to offer complimentary charging to Canadian Lucid Air drivers.
The only catch is that you have to reserve your example of the ultra-luxury electric sedan with Lucid by June 30, 2022.
Electrify Canada's public charging network is relatively small at the moment, spanning across 30 stations comprised of 120 individual chargers. But the company has big plans for the future. By 2026, it plans to expand to more than 100 charging stations with over 500 individual chargers.
Lucid Air drivers who take advantage of the offer will be able to use the company's Plug&Charge payment system which basically allows automatic charging just by plugging in the vehicle. With Electrify Canada's 350kW chargers, they will be able to gain 350 kilometres of range in about 15 minutes.
That's in ideal weather conditions, of course!
"We are excited to work with Electrify Canada given the quality and reliability of its charging network and plans to expand across Canada," said Zak Edson, vice president, sales and service at Lucid. "By combining our groundbreaking battery technology with Electrify Canada's ultra-fast charging speeds, we will provide our customers with a premium electric driving experience."
The Lucid Air is offered in Canada at a base price of $105,000 for the base model with 653 kilometres of range. The range-topping model goes for $229,000 and delivers 836 kilometres of range.