2022 Volvo
C40 Recharge

: Seriously Attractive, But Expensive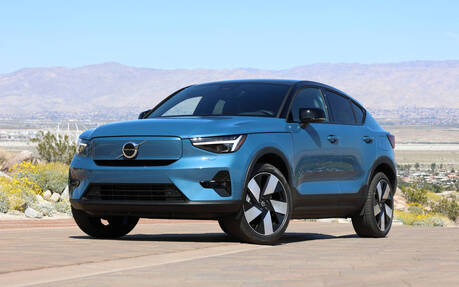 An electric vehicle's success largely depends on range and affordability, more specifically a reasonable price and available incentives.
Starting at $72,600, the new 2022 Volvo C40 Recharge is quite expensive and doesn't qualify for any rebates, be it at the federal or provincial level. The similarly powered Volvo XC40 Recharge, meanwhile, retails from $59,950 and is eligible to a $7,000 reduction in Quebec (but not in any other province). That's because the former comes in a single, fully loaded model, while the latter offers an entry-level alternative.
Consequently, it's easy to predict the XC40 Recharge will outsell the sexier-looking C40 Recharge, unless Volvo Canada revises its pricing strategy.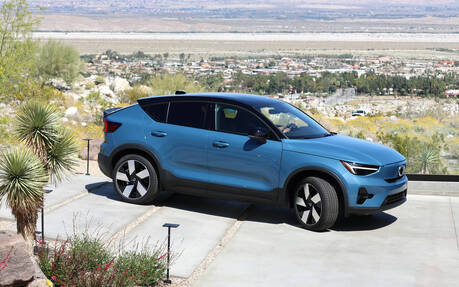 Hot Crossover
It's a shame for the C40 Recharge, because this coupe-like variant of the XC40 Recharge has a number of things going for it starting with seriously good looks. We can think of a few other automakers that failed to execute this particular body style in a properly elegant way.
Volvo's latest darling is similar to the Audi Q5 Sportback, BMW X4 and Mercedes-Benz GLC Coupe, except that it comes exclusively with an electric powertrain. There's no gas-only variant like the XC40 offers, making the C40 Recharge the Swedish brand's first dedicated EV.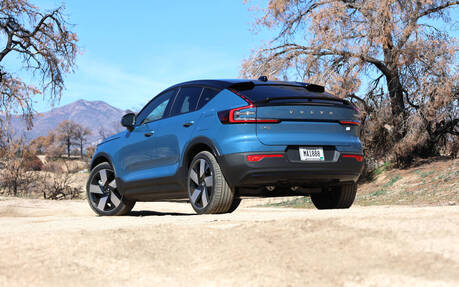 It's only the beginning, mind you, as Volvo aims to sell nothing but EVs by 2030. One key area that needs to be improved in the future is range: the C40 Recharge can cover up to 363 kilometres with a full battery, which is enough for most drivers but well short of the competition.
Tasteful aesthetics can be found inside, as well. The interior of the C40 Recharge is a pleasant place to be, with contrasting floor mats, comfortable seats, a good driving position and a Google-powered infotainment display. No need for Apple CarPlay, which will nevertheless be added shortly through an over-the-air update. Featuring crisp graphics, the quick-executing touchscreen proves quite intuitive to use and provides access to Google-based navigation and other apps from your smartphone.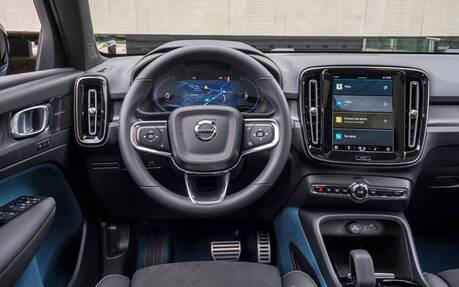 As mentioned earlier, there is just one model to choose from, but it has everything you need except for real leather since Volvo prefers to use animal-free or recycled materials. The seats are covered in a mix of suede-like material and synthetic leather, while the floor mats are made from plastic bottles. Rest assured that Volvo's signature fit and finish is not compromised.
Lively Crossover
Built on the Compact Modular Architecture (CMA) just like the XC40 Recharge and Polestar 2, the 2022 Volvo C40 Recharge also gets the same dual-motor setup producing a combined 402 horsepower and 486 pound-feet of torque. Acceleration is electrifying and sustained up until you reach really high speeds.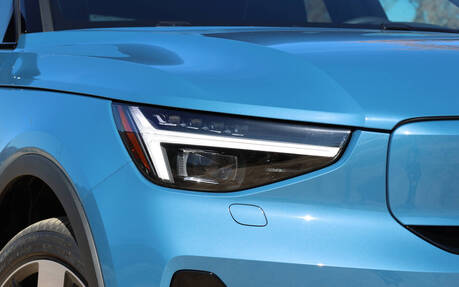 Such lively performance combined with surprisingly hood handling makes this small crossover a joy to drive. Of course, the more you tap into the available power, the less range you have, but as we found out it's just as easy and enjoyable to cruise along and maximize efficiency. One-pedal driving quickly becomes second nature thanks to the smartly calibrated regenerative braking system.
Negative points? Visibility is limited by the small rear window and there's no conventional sunroof, only a panoramic glass roof. The price is justified by the quality of the product, the level of technology and the long list of features and amenities, although range should be better. As for availability, the C40 Recharge will likely have shorter delivery times than the XC40 Recharge due to the reasons we mentioned up top.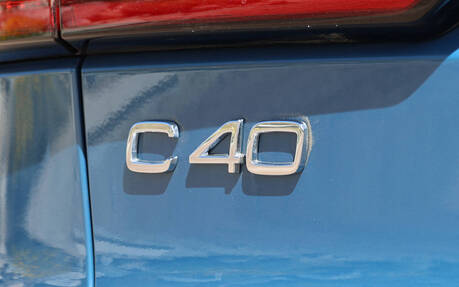 In the end, we feel like the C40 Recharge could have easily been sold as a Polestar. This would have spared Volvo from offering two very similar products. Will more trim levels and options join the lineup at some point? For the C40 Recharge to succeed, it might not have a choice.
Test drive report
Test model

2022 Volvo C40 Recharge

Trim level
Twin TI
Price range
$72,600
Price as tested
CA$72,600
Warranty (basic)
4 years/80,000 km
Warranty (powertrain)
4 years/80,000 km
Fuel economy (city/highway/observed)
N/A
Options
N/A
Competitive models
2022 Volvo XC40 Recharge Electric AWD, 2022 Polestar 2 Long Range Dual Motor, 2022 Ford Mustang Mach-E, 2022 Tesla Model Y
Strong points

Gorgeous looks
Inspiring drive
Great build quality
Remarkable power

Weak points

No EV incentives apply
Disappointing range
Limited visibility in the rear

Editor's rating
Fuel economy
Just as efficient as the average compact electric SUV.
Comfort
Comfort is not exceptional, but the seats sure are impressive.
Performance
Acceleration is electrifying right from takeoff and up to really high speeds.
Infotainment
With Google Assistant and outstanding ease of use, this system is unquestionably one of the best in the business.
Driving
A joy to drive. Quick, nimble, intuitive and more responsive than your typical Volvo.
Overall
A surprisingly good product that sadly won't enjoy big success in the shadow of the more affordable XC40 Recharge.