Toyota GR Corolla Teased a Final Time Before March 31 Debut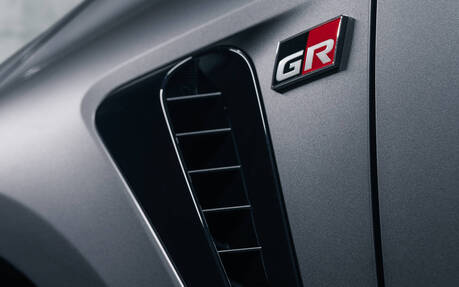 A new sporty car from Toyota's Gazoo Racing division will be unveiled on Thursday night. After the GR Supra and GR 86, it can only be one thing: the GR Corolla.
For more than three years now, the Japanese automaker has hinted at a high-performance variant of the Corolla, the type of machine that would alter the hot hatch landscape in North America and please enthusiasts who can't get their hands on the small but sensational GR Yaris.
Teasers of all kinds have been posted on social media in recent months. How about one more? Toyota today gave us this video with a warning: "Get Ready for the heat!" 
We can see some air vents in a black finish along with a "GR" badge on the front fenders, followed by a shot of the gloss black alloy wheels and GR-branded, red-painted brake callipers.
The teaser ends with "GR-Four" lettering on the side skirts, which happens to be the name of the GR Yaris' all-wheel drive system featuring Torsen limited-slip differentials.
What about the engine? A previous teaser showed "G:16" on the instrument cluster, a nod to the G16E-GTS turbocharged three-cylinder engine that powers the GR Yaris. Expect something close to 270 horsepower and 260 pound-feet of torque. Also, the latest rumours suggest manual and automatic transmissions will be offered.
We'll know for sure on Thursday at 9:30 pm. Come back here for full details and lots of pictures of the new Toyota GR Corolla!