2022 BMW M3 Competition xDrive: Drifting on Ice and Loving Every Minute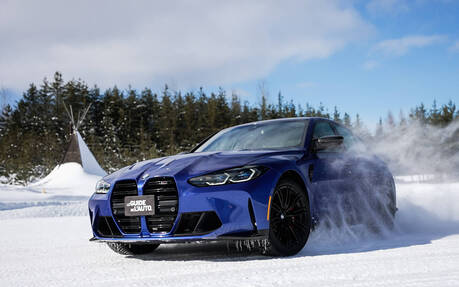 The side windows are covered in snow, the engine is toying with the redline, and the four tires are happily dancing on sheer ice as I drift the new BMW M3 Competition xDrive around a figure-8 course...
What a fabulous day on Mécaglisse's ice track in the small town of Notre-Dame-de-la-Merci north of Montreal, Quebec, and a magical place to push the latest M3 to the limit and explore how all-wheel drive adds another dimension to this car.
Following the M5's Lead
For the first time in 35 years, the BMW M3 Competition is available with an AWD system similar to that of the M5 and M8. While the twin-turbocharged 3.0-litre six-cylinder engine still delivers 503 horsepower and 479 pound-feet of torque, the engineers at BMW M added a pair of half shafts, revised front-wheel geometry and recalibrated the active differential, among other things.
Just like its two larger siblings, the M3 Competition's AWD system features an electronically controlled multi-plate clutch with a rear-wheel bias. There are three distinct modes to choose from including 4WD, 4WD Sport and 2WD.
4WD Sport With ESC Off
On the icy and snow-covered tracks at Mecaglisse, I quickly found out that selecting 4WD Sport and turning stability control off offered the best configuration for drifting with the M3 Competition.
By the way, this is a safe and controlled environment where drivers never risk colliding with an oncoming car. I had a blast with the compact sports sedan as the photos perfectly illustrate.
In 2WD mode, things got a little too zesty on the ice, as one would expect, but it made me appreciate even more the remarkably sharp and direct steering characteristics on dry and clear surfaces. Having the ability to go from 4WD to 2WD at the push of a button is a best-of-both-worlds proposition I'm happy to accept.
As Surefooted as it Gets
On public roads free of any traffic, it's obviously wiser to activate ESC in order to benefit from a safety net while tapping into the car's drifting potential in 4WD Sport mode.
I had the opportunity to test a standard M3 with a manual gearbox last summer, and even though the weather conditions were completely different this time, performance was fairly similar. The M3 Competition xDrive is about 50 kilograms heavier, sure, but the AWD system is so good that acceleration from 0-100 km/h is actually four tenths of a second quicker.
As for the ride, the suspension is once again on the stiff side, even with Comfort mode engaged, but that's the price you have to pay to enjoy such superb driving dynamics.
A quick word about the grille. While my initial impression was that BMW designers had somewhat lost their mind, I must admit the super-aggressive look has now grown on me. Moving inside, the iDrive infotainment system proves user-friendly either via the touchscreen or the controller on the console. 
Explosive and Expensive
The 2022 BMW M3 Competition xDrive is naturally priced to match its performance. This model starts at $90,800, while my tester retailed for $107,995 with the two separate packages and three standalone options added to it.
The M Carbon Package alone costs $8,500. It comes with carbon bucket seats that limit ingress and egress, but provide exceptional support once you've settled in them. They even remain comfortable on long trips. Of course, they're not made for drivers of all shapes and sizes.
Final Thoughts
BMW's decision to add AWD to its beloved M3 is a response to some competitors doing the same with their own sports sedans and also an effort to attract new customers that may not want to drive a RWD car. Given how bad Canadian weather can be, I would personally pick the M3 Competition xDrive well before the non-AWD M3 models so as to maximize the time spent behind the wheel—including at places like Mecaglisse!
Test drive report
Test model

2022 BMW 3 Series

Trim level
M3 Competition xDrive
Price range
$90,800 – $107,995
Price as tested
CA$107,995
Warranty (basic)
4 years/80,000 km
Warranty (powertrain)
4 years/80,000 km
Fuel economy (city/highway/observed)
14.6 / 10.5 / N/A L/100km
Options
M Carbon Package ($8,500), Premium Package ($6,550), Portimao Blue Metallic paint ($895), Shadowline optics ($500), M Compound Brakes with red callipers ($750)
Competitive models
2022 Acura TLX, 2022 Audi A4, 2022 Cadillac CT5, 2022 Infiniti Q50, 2022 Genesis G70, 2022 Mercedes-Benz C-Class, 2022 Lexus IS, 2022 Volvo S60
Strong points

Extraordinary AWD system
Plenty of power and torque
Extremely dynamic
Highly supportive seats

Weak points

High price
Expensive options
A bit heavier with AWD

Editor's rating
Fuel economy
Not bad on the highway thanks to the eight-speed transmission.
Comfort
The suspension is stiff even in Comfort mode.
Performance
The engine delivers phenomenal performance.
Infotainment
The system proves quite user-friendly.
Driving
Awesome!
Overall
AWD adds a fantastic new dimension to the latest M3.