2023 Honda HR-V Revealed With Love-it-or-Hate-it Styling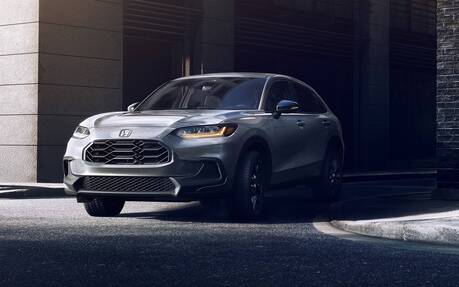 Honda today gave us our first official look at the second-generation HR-V crossover for the North American market.
Set to launch this summer as a 2023 model, the new HR-V is completely redesigned from the ground up and ready to face competitors that are fiercer and more attractive than ever. It looks nothing like its predecessor, which was starting to fall into oblivion despite decent sales numbers.
Longer and wider, with a stretched hood and wheelbase, the 2023 HR-V is somewhat inspired by the latest Civic, particularly the headlights. The bold new front grille is totally unique in the Honda lineup, and it's going to draw mixed reviews, for sure.
The side view is pretty forgettable except maybe for the wheels, but the rear end is more dynamic from the roof spoiler to the sharp new taillights and the contrasting bumper in a black finish that effectively hides the tailpipes.
Honda is not showing the interior of the 2023 HR-V yet, but hints at more room and excellent visibility. Also, there are no details about the powertrain or chassis. The company simply says that a more responsive engine and new independent rear suspension will make for more pleasant driving.
Additional information, specs and pictures will be shared in the coming weeks, so stay tuned.
Honda's "Year of the Crossover"
This year is a pretty big one for Honda. Aside from the HR-V, the popular CR-V compact SUV and Pilot midsize SUV will both get a complete overhaul.
As previously reported, the 2023 CR-V will be available as a hybrid—for the first time in Canada—with production to take place in Ontario. Honda is spending $1.4 billion to retool its Alliston plants to build hybrid vehicles for our market.
What will the 2023 Honda CR-V look like? This could be it.