Next-Gen Mazda MX-5 in the Works, Won't Change That Much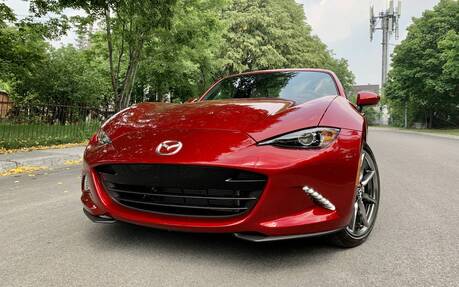 If you like cars and Mazda in particular, you might be a little worried right about now.
The Mazda6 sedan is gone and the company is about to launch three new SUVs in Canada—the adventurous CX-50 arriving in dealerships next month, the CX-90 that's set to replace the CX-9, and a two-row variant that will ride on the same new large-vehicle platform called CX-70.
Rest assured, Mazda has no plans to drop the iconic MX-5. A fifth generation is already under development and it will retain all of the core attributes of its predecessors.
"It's our brand icon and it is always treated very specially," Joachim Kunz, head of product development and engineering at Mazda Europe, told Autocar magazine. "At the moment, it looks like we will have this car forever, with this size and concept and combustion engine. Of course, someday, we will have to electrify it, but we want to keep this pure concept."
He admitted that the MX-5 remains "the baby of headquarters" in Japan, suggesting that his team is not involved as much in the development, but the point is that the MX-5 has a future. In fact, it might be the last Mazda vehicle to go hybrid or electric. Whenever it does, the important thing will be to make sure that weight is not affected, as previously explained by Ichiro Hirose, head of engineering research and development at Mazda.
The MX-5 is by far one of the most fun vehicles on the market in any season. As our colleague Germain Goyer noted following his winter test drive, it's not ideal for every single day of the year, but unless you live way up north it can realistically be used about 300 days.
Okay, so a new MX-5 is coming using the same basic recipe. When will we see it? Don't hold your breath. Mazda doesn't mind long life cycles with this car. The current generation dates back to the 2016 model year, and the next one will probably launch around mid-decade.