2022 Volvo V90 Cross Country: A Swedish Queen Returns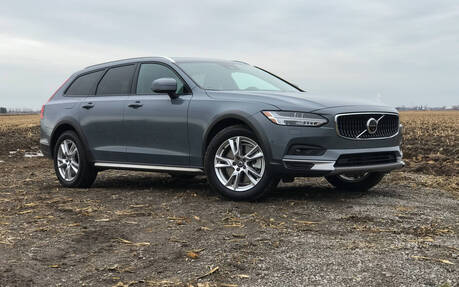 The Volvo V90 Cross Country has silently returned to Canada following a two-year hiatus. It doesn't look that different from the model that first launched in 2017.
Built on the same Scalable Product Architecture (SPA) as the XC60 and XC90 crossovers, the rugged Swedish wagon is now available in a single model with a single powertrain option.
Performance vs. Efficiency
The biggest change for 2022 can be found under the hood. The B420T engine is a variant of the turbocharged and supercharged 2.0-litre four-cylinder that motivates conventionally powered Volvos, complete with a 13-horsepower electric motor and 48V battery. In other words, the latest V90 Cross Country is a mild hybrid.
The company claims fuel savings of up to 15 percent as a result of this technology. Officially, however, the ratings are 10.6 L/100 km in the city, 8.1 L/100 km on the highway and 9.5 L/100 km combined—just a tad better than those of a 2018 model (10.9/8.0/9.6 L/100 km).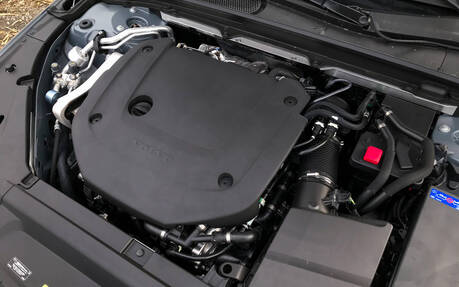 The power and torque figures are not what they used to be, by the way. The engine previously delivered 316 hp at 5,700 rpm and 295 lb-ft. from 2,200-5,400 rpm, but now it's 295 hp at 5,400 rpm and 310 lb-ft. from 2,100-4,800 rpm. As you can see, torque is slightly increased and accessible across a wider rev range.
The new V90 Cross Country is 65 kg heavier, mind you, and slower from 0-100 km/h with a time of 7.46 seconds versus 6.35 seconds for its predecessor.
Infotainment Update
The new Google/Android-based infotainment system is the other key addition for 2022. It not only looks cleaner than the old Sensus interface but also responds more quickly to inputs and makes navigation easier. The settings menu has everyhting covered. Heck, there's even a button that puts the windshield wipers in the service position to help remove snow at the bottom of the windshield.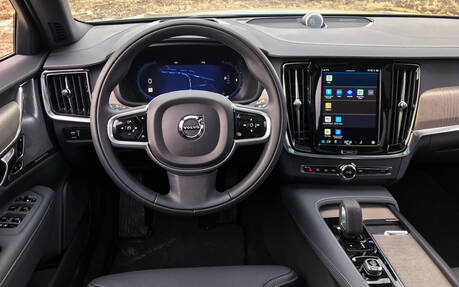 This combined with outstanding forward visibility and a myriad of safety features makes the V90 Cross Country an excellent vehicle for any weather but particularly winter. Alas, there's no way to deactivate stability control, and the digital display in the instrument cluster lacks information.
Flexible and Predictable
Access to the front seats is just about perfect for drivers of all sizes, while the 204 mm of ground clearance are an ideal compromise for this refined soft-roader that has no aspirations of tackling rocky terrain or climbing steep trails. The front buckets are supportive and comfortable in true Volvo fashion, and their multiple adjustments further contribute to a superb driving position. The large side mirrors often get in the way of confident cornering, however.
In the rear, the outboard seats prove just as easy to access, and the seat bottoms are long enough to ensure decent support but a bit too firm for long-distance trips. Likewise, the middle position is best left for short commutes. There are two air vents and a 110V power outlet on the back of the centre console, but sadly no USB ports.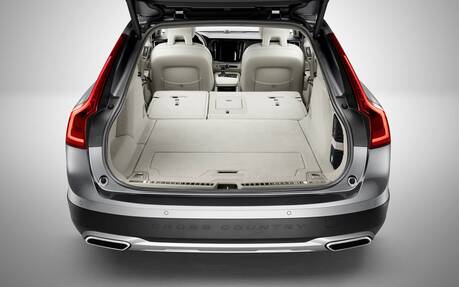 On the road, the new V90 Cross Country drives smooth and boasts linear steering, making it predictable most of the time. Handling is surprisingly good for a car of this size and weight. On the other hand, the ride is unusually stiff and even irritating especially on rougher pavement.
Bottom Line
At the end of the day, the subtly refreshed 2022 Volvo V90 Cross Country offers a unique blend of comfort, flexibility and versatility in a seriously elegant package. Along with a handful of rivals, it proudly resists the onslaught of heavy, boring and inefficient SUVs on the market today.
Test drive report
Test model

2022 Volvo V90

Trim level
Cross Country B6
Price range
$68,779 – $80,279
Price as tested
80 279 $
Warranty (basic)
4 years/80,000 km
Warranty (powertrain)
4 years/80,000 km
Fuel economy (city/highway/observed)
10,6 / 8,1 / N/A L/100km
Options
Lounge Package ($3,850), Bowers & Wilkins Premium Audio ($3,750), North Climate Package ($1,000), Advanced Technology Package ($2,000), Thunder Grey paint ($900)
Competitive models
2022 Audi A4 Allroad Technik 45 TFSI quattro, 2022 Mercedes-Benz E-Class 450 4MATIC All-Terrain Wagon
Strong points

Seriously elegant looks
Spacious and comfortable cabin
Excellent winter operation
Safe and relaxed drive

Weak points

Excessively large mirrors
ESC can't be turned off
Not really more efficient
Stiffer ride

Editor's rating
Fuel economy
Slightly better fuel economy that has yet to demonstrated in real-world conditions.
Comfort
Superb seats and a quiet cabin make for a comfortable environment. The ride is stiffer than expected.
Performance
The wagon is a bit less explosive now as it seems to put more emphasis on efficiency.
Infotainment
The new Google/Android-based infotainment system looks cleaner, responds more quickly and makes navigation easier than Volvo's old system.
Driving
Agility and finesse combine to deliver a safe and relaxed driving experience.
Overall
The latest V90 Cross Country boasts elegant looks, a fantastic interior and tremendous versatility.