2023 Toyota bZ4X: Moderation in All Things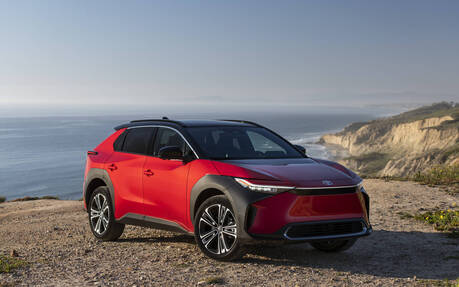 Toyota was one of the automotive industry's pioneers in electrifying its vehicles at the turn of the 21st century with the Prius, and later with an expanded line of hybrid models. That said, the automaker was still slow to unveil a first, full-scale 100% electric model. It is with the bZ4X crossover, developed in partnership with Subaru, that Toyota is embarking on the electric adventure.
The Toyota bZ4X is a direct rival to the Hyundai IONIQ 5, Kia EV6 and Chevrolet Bolt EUV, to name a few. The e-TNGA platform on which the it is built also underpins the Subaru Solterra. Toyota claims that the bZ4X embodies the best of Toyota's reliability and robustness, and the off-road capabilities/performance that Subaru is known for. It goes without saying that this statement is a very bold one.
Cautious Specifications
In terms of performance and range, the Toyota bZ4X puts forward rather timid figures. It is offered in both front-wheel drive and all-wheel drive configurations. The front-drive bZ4X develops 200 horsepower and 196 lb-ft from a 71.4 kWh battery, with a 406-kilometre estimated range - in ideal weather conditions, of course. The all-wheel drive bZ4X is armed with two motors (one in the front and one in the rear) that jointly output 214 horsepower thanks to a slightly more powerful 72.8 kWh battery. The range is then reduced to 367 kilometres with this powertrain.
The charging capacity of the bZ4X also seems modest on paper. For example, on a level 3 charger, front-wheel drive models are limited to a charging speed of 150 kW, while those equipped with all-wheel drive can take on 100 kW. For reference, the Hyundai IONIQ 5 and the Kia EV6 can go beyond 220 kW.
According to Toyota, this lower charging capability is intended to decrease battery degradation over time. Apparently, the bZ4X's battery shouldn't lose more than 10% of its capacity after 10 years on the road. It is a compromise that has its advantages and that fits well with the manufacturer's philosophy, whose reputation for reliability is one of its pillars.
The Toyota bZ4X starts at $44,990, making it eligible for full government subsidies in Quebec. But at this price, you will have to settle for a front-wheel drive model. For an all-wheel drive model you will have to dish out a minimum of $54,990.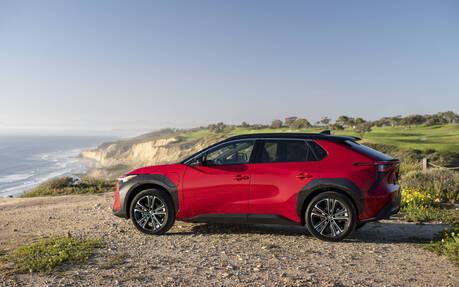 Good Visibility, With Plenty of Room
By comparison, the bZ4X is 5 mm lower than a Toyota RAV4, but its wheelbase is 160 mm longer. In fact, it provides very generous interior space, both for passengers and for cargo volume. In the trunk, a volume is rated at 784 litres – with the rear seats in place. Unfortunately, the total volume with the seats lowered has not yet been revealed. Unlike the RAV4, the sloping roofline can impinge on vertical cargo capacity.
Behind the wheel, you find yourself surrounded by "piano black" plastic, a trend that still seems to stick in the industry. But this material is complemented by a pleasant-to-the-touch fabric that covers the dashboard, replacing the need for even more plastic. This dashboard is dominated by an 8-inch touchscreen in the base models, or 12.3 inches as an option. Both are supported by a series of manual controls.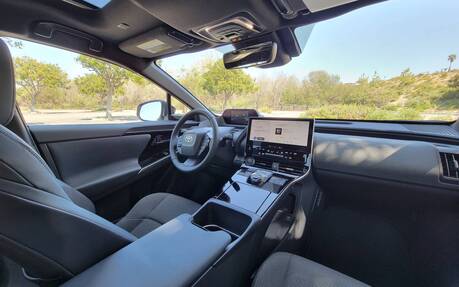 The infotainment system's interface looks better than ever, though some simple commands are still tricky to execute. Just like in the new Lexus NX, Toyota has enhanced its system with a voice assistant, allowing drivers to perform certain tasks using the "Hey, Toyota", or "Say, Toyota" voice command.
With comfortable seating and good visibility from the driver's side, the bZ4X is easy-tu-use on the road. From the outside, the sloping rear window gives the impression of offering average visibility, which is fortunately not the case. Alas, this one does not have wiper, which could be bad for winter. Speaking of winter conditions, Toyota has given a standard heat pump to all versions of the bZ4X, which will help with energy savings during the cold winter months. Radiant foot heating is also available in the front.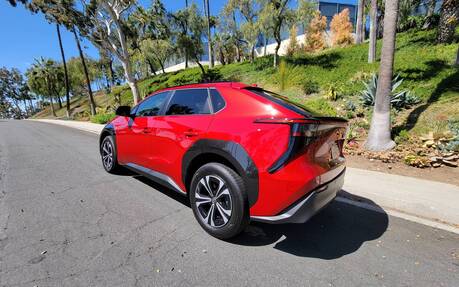 Plain, But Balanced Driving Dynamics
If the partnership between Toyota and Subaru for the sports GR 86 and BRZ was built around sportiness, this one is more focused on efficiency. Even if our test vehicle proved to behave adequately when being thrown around in curves, it goes without saying that providing emotion is not part of its areas of expertise. And this is normal, given the context in which it is marketed. Its precise steering and technologies from Subaru's toolbox, such as the electric version of the X-Mode, will probably come in handy in some more demanding conditions.
Like all electric vehicles already on the road, the bZ4X sends all the torque to the wheels from the get go, resulting in convincing acceleration. Admittedly, the 200-hp ouput (214 in the AWD model) might seem shy, especially at high speeds on the highway, but it generally proves sufficient for everyday driving.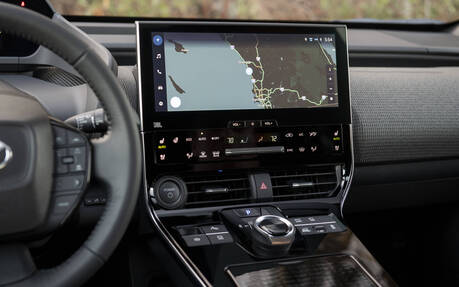 What's the Take?
With a much more adventurous name and exterior design than the specs it rolls out, the Toyota bZ4X is pretty conservative all in all. But that seems to be in the spirit of nurturing and protecting Toyota's reputation for reliability for decades to come. Time will tell if the strategy employed is the right one, but for now, we can't wait to put this new crossover to the test in winter conditions to assess its cold-weather skills.
Test drive report
Test model

2023 Toyota bZ4X

Trim level
Limited AWD
Price range
$45,000 – $53,000
Price as tested
CA$53,000
Warranty (basic)
3 years/60,000 km
Warranty (powertrain)
5 years/100,000 km
Fuel economy (city/highway/observed)
N/A
Options
N/A
Competitive models
Audi Q4 e-tron, Chevrolet Bolt EUV, Ford Mustang Mach-E, Hyundai IONIQ 5, Hyundai Kona, Liteborne Aurium SEV, Kia EV6, Mazda MX-30, Nissan Ariya, Subaru Solterra, Tesla Model Y, VinFast VF 8, Volkswagen ID.4, Volvo C40 Recharge, Volvo XC40
Strong points

Good interior room
Great comfort and visibility
Precise steering

Weak points

Range slightly lower than competitors
Limited power
Recharge speeds on the low side

Editor's rating
Fuel economy
N/A Not evaluated
Comfort
La sellerie est confortable à l'avant comme à l'arrière.
Performance
Even if the torque is ample at the bottom, the power could prove insufficient at high speeds.
Infotainment
There is still room for improvement for this system.
Driving
Far from being exhilarating, the bZ4X's driving dynamics are still adequate and precise in normal driving.
Overall
The focus is on future reliability rather than immediate performance. And that's very Toyota-like!