2022 Chevrolet Silverado ZR2 : Easy Full-Size Off-Roading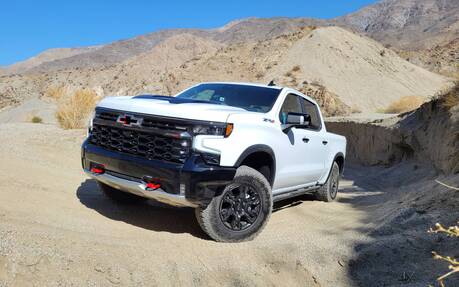 Chevrolet recently took the road less travelled by adding a ZR2 version to its popular Silverado full-size pickup truck. And just like the brand did with the mid-size Colorado pickup, it called upon Markham-based Multimatic to build a suspension specifically for the model, in addition to giving it an array of robust components to take on the Ford F-150 Raptor and Ram 1500 TRX.
The Car Guide headed down to the Californian desert, specifically in the Joshua National Park area, to test-drive the 2022 Chevrolet Silverado ZR2.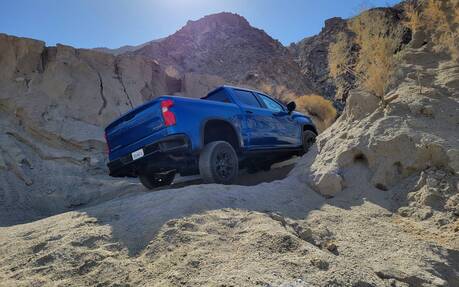 Familiar Grunt Under the Hood
While permanent magnets and kilowatt-hours are slowly but surely taking over the auto industry, it's always good to know that an engine like the 6.2 L V8 is still alive (and well) at GM. And it is precisely this engine that was elected to power the ZR2 version of the 2022 Silverado.
Electrification has brought a great deal of progress in off-road driving (see our GMC Hummer EV review), but the sound and reliability of the all-gas V8 delivers a unique experience in the Silverado. Needless to say, the 420 horsepower output along with 460 lb-ft of torque are more than enough to move this full-size truck.
And while rivals like the Ram 1500 TRX and Ford F-150 Raptor show higher numbers, GM's ol' 6.2 provides unrivalled reliability – an asset that off-road enthusiasts strongly value. This engine is mated to a 10-speed automatic transmission, which sends its efforts to the 4x4 system composed of an Autotrac two-speed transfer case and front and rear electronically locking differentials.
Remarkable Off-Road Capabilities
A traditional shock absorber forces a piston through a chamber filled with pressurized hydraulic fluid. Ports in the piston as well as shims control the speed at which the piston travels through the chamber.
The DSSV (Dynamic Suspensions Spool Valve) suspension, which the piece de resistance of the ZR2's off-road arsenal, is much more advanced. With this technology, a series of valves control the liquid in separate chambers inside the shock absorber, thus allowing precise modulation of the behaviour of the latter according to the driving mode and style.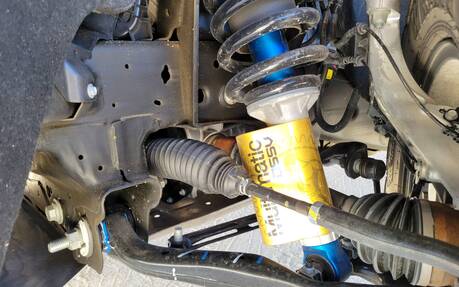 A series of additional components complement this suspension, including front skid plates, an 11.2-inch ground clearance, 33-inch tires and a series of driving modes specific to off-road. Approach and departure angles are 32.8 degrees and 23.3 degrees respectively.
There was a time when off-roading was a fun, but also nerve-racking experience. The ZR2 makes off-roading look easy. Locking differentials front and rear give the ZR2 the ability to overcome the steepest obstacles – it aces it like it's coming out of an underground parking lot. The suspension travel forgives and forgets, and the numerous drive modes like "off-road" and "terrain" also feed specific calibrations to the suspension.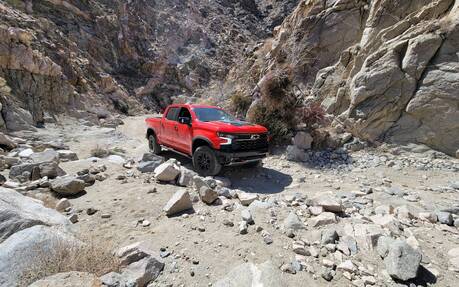 In order for the driver to anticipate what the trail has in store, a series of cameras provide views from all sides front, sides and back. On the other hand, these are deactivated from (10 mph) 16 km/h, which can be annoying when driving on trails at variable speeds. At high speeds, passenger comfort is surprisingly plush, even when we exceeded 100 km/h in the middle of the desert. This is due to the responsive suspension that not only dampens imperfections, but also keeps the truck on its path, even after unexpected and brutally unexpected events.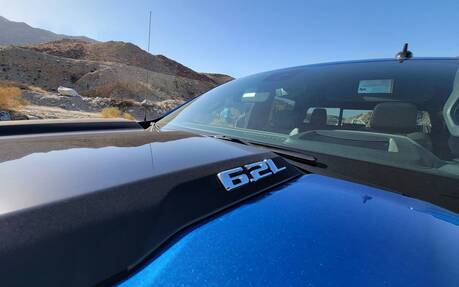 Comfortable Ride on the Road, But with Some Compromises
Chevrolet says that the ZR2 offers the best of both worlds; optimal off-road capability and comfortable every day on-road driving. However, once on Californian winding roads, the Silverado was very comfortable, perhaps even a little too comfortable. The suspension, although it is quick to react, sometimes struggled to contain the roll effect at the start of a turn.
This driving experience takes place in the Silverado brand-new interior design, which is frankly improved. Yes, the seats offer great comfort (and support) for those long days on the trail, but the ergonomics and finish have also been refined. The dashboard is dominated by a large 13.4-inch touchscreen a long with a 12.3-inch instrument cluster behind the steering wheel.
It's hard to find any negative points regarding the infotainment system - it's delightfully intuitive, clear and fast. Furthermore, engineers have been careful to leave a series of analogue levers below this screen to control on-road and off-road systems like the locking differentials without having to go through menus to activate them.
The Chevrolet Silverado ZR2 pushes the limits of the full-size truck off-road experience, offering a good mix of traditional and new technologies in a competent package that is perhaps more discreet in terms of style and power than its rivals, but a more attractive starting price of $75,248.
Test drive report
Test model

2022 Chevrolet Silverado 1500

Trim level
ZR2
Price range
$33,800 – $75,248
Price as tested
75 248 $
Warranty (basic)
3 years/60,000 km
Warranty (powertrain)
5 years/100,000 km
Fuel economy (city/highway/observed)
16,7 / 14,1 / N/A L/100km
Options
N/A
Competitive models
Ford F-150, Ram 1500, Toyota Tundra
Strong points

Remarkable off-road capabilities
Comfortable and practical interior
Great performances

Weak points

Riding a little too softly on the road
Poor fuel efficiency

Editor's rating
Fuel economy
This 6.2 L V8 is still thirsty...
Comfort
It is comfortable, whatever the road ahead.
Performance
The powertrain delivers great performances.
Infotainment
The system is complete and simple to use.
Driving
Superb off-road, a little soft on-road.
Overall
Great value to hit the trails in full-size pickup fashion.