2023 Nissan LEAF Gets Refreshed Looks But Loses Some Range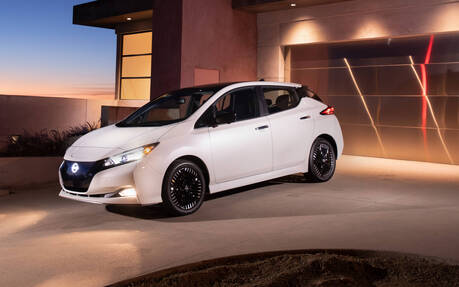 Overshadowed by the new wave of electric SUVs hitting the market, the Nissan LEAF hatchback soldiers on with a few changes for 2023. Following its public debut at the 2022 New York Auto Show this week, it will go on sale in Canada this summer.
First, the car's front fascia is updated with a refreshed grille panel, bumper moulding and headlights that feature a black inner finisher. The new Nissan badge obviously appears on the nose and is illuminated for a more distinguished look.
In addition, the shapes of the tire deflectors at all four corners, rear under diffuser and rear spoiler have all been modified—supposedly for better aerodynamics, but the difference is negligible as you can imagine. On the other hand, we can't take our eyes off the aggressive new five-spoke 17-inch alloy wheels, which look like they could shave your beard or cut you a few slices of bread in a flash.
Inside, changes for 2023 include the new Nissan badge on the steering wheel and a new start-up video on the instrument panel screen. That's it.
A key detail you need to know about is the simplified model lineup—SV, SV Plus and SL Plus. The first one is equipped with a 40kWh lithium-ion battery and 110kW electric motor that delivers 147 horsepower and 236 pound-feet of torque, while the other two feature a larger 62kWh battery and 160kW electric motor that produces 214 horsepower and 250 pound-feet of torque.
Curiously, the LEAF S Plus has been dropped despite being the one that offered the longer range at 363 km. As a result, you'll have to settle for either 240 km or 349 km.
Now, what about pricing? We'll know how much the 2023 Nissan LEAF costs closer to launch, but remember that the 2022 model was slashed by as much as $6,800 for a base MSRP of just $37,498.
Another thing you must not forget is that the end is near for the LEAF. Somewhere around 2025, Nissan plans to replace it with a small crossover that will slot just below the upcoming Ariya.