Super-Sized Jeep Wagoneer L,
Grand Wagoneer

L Coming for 2023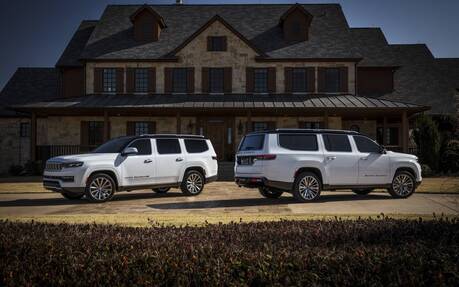 Jeep is going to great lengths—and super sizes—to please SUV customers for 2023, adding long-wheelbase variants of the new Wagoneer and Grand Wagoneer to its growing lineup.
The brand chose the 2022 New York Auto Show this week to make the official announcement.
Best-in-Class Space
The 2023 Wagoneer L and Grand Wagoneer L are both 12 inches longer overall than the regular models including an extra 7 inches of wheelbase. The former boasts best-in-class overall passenger volume and second-row legroom, Jeep claims. Third-row legroom is 36.6 inches (93 cm) in both.
There's also 1,252 litres of cargo space behind the third row in the Grand Wagoneer L, which is an increase of nearly 50 percent and tops in the segment once again. And get this: with the second and third rows folded flat, the cargo area can easily fit a 4'x8' sheet of plywood with room to spare.
All of this is possible thanks to a significantly revised and reinforced chassis. The two new SUVs carry an additional 200 pounds, by the way, which leads us to our next point.
Hurricane Engine
The brand new twin-turbocharged 3.0-litre inline six-cylinder engine Stellantis recently unveiled will be available in the 2023 Jeep Wagoneer L and Grand Wagoneer L. The former is rated at 420 horsepower and 468 pound-feet of torque, while the latter gets the high-output variant delivering 510 horsepower and 500 pound-feet of torque. Jeep notes that a special run of Hurricane Twin Turbo 510 engines will be offered on the 2022 Grand Wagoneer, as well, with dealers now accepting orders.
An eight-speed automatic transmission handles power delivery with the help of one of three available four-wheel drive systems. Maximum towing capacity is up to 10,000 pounds. Some other technical upgrades you should know about include a larger fuel tank (+15 litres or so) and new suspension and steering calibration to account for the extra-large size (Quadra-Lift air suspension is available).
New Carbide Package
When it comes to styling, the people at Jeep told us they didn't want the new long-wheelbase models to look like school buses, but we find it a bit hard to pretend that's not the case. What do you think? One thing's for sure: those are some fine-looking wheels—from 18-22 inches on the Wagoneer L and 20-22 inches on the Grand Wagoneer L.
The Wagoneer L stands out further with a new Carbide Package that includes numerous gloss black accents and a panoramic tri-pane sunroof. Inside, you'll find new technical hydrographic dash trim, black headliner, Smoke accent stitching along with black seats, instrument panel and doors. The Carbide package will be available on the 2022 Wagoneer starting this spring, and on all 2023 Wagoneer and Wagoneer L models in the second half of 2022.
Canadian pricing for the 2023 Jeep Wagoneer L and Grand Wagoneer L will be announced closer to launch in the fall. In case you needed an alternative to the Cadillac Escalade ESV or Lincoln Navigator L, this is it.
Watch: 2022 Jeep Grand Wagoneer Review