Deus Vayanne Hypercar Lands in New York With 2,200 Horsepower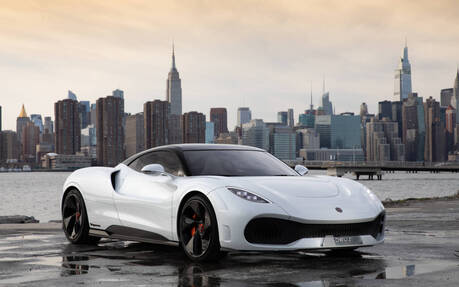 A new automaker you've probably never heard of took New York City by storm this week with the debut of a stunning hypercar. Straight from Austria, meet Deus Automobiles' Vayanne.
Developed with the help of renowned design studio Italdesign and the team at Williams Advanced Engineering, whose F1 expertise led to the creation of the EVX platform, this all-electric missile has a target of more than 2,200 horsepower and 1,475 pound-feet of torque, which would make it more potent than the Rimac Nevera, Lotus Evija and Pininfarina Battista.
In terms of performance, Deus claims a top speed of more than 400 km/h and 0-100 km/h acceleration delivered in under two seconds.
Before going any further, we must insist on one important thing: the Vayanne shown in the Big Apple is still a concept. Design and specifications could change by the time the car enters production sometime in 2025. Only 99 units will be made for the entire planet, by the way. And as you can imagine, it's too early to talk about pricing.
The exterior is all about balance. For every air duct there is another matching air duct to keep the styling in line with the symmetry while ensuring the angles of those ducts are geometrically aligned. Meanwhile, the shape of the front and rear grilles is made to represent the infinity loop. Ground clearance is just 12 centimetres to maximize aerodynamics and handling. Weight and wheel size are not specified.
The cockpit of the Vayanne may not seem revolutionary at first glance, but the industry-first Halo Infinity mirror applied throughout carries over Deus' infinity theme from the exterior to the interior. The effect changes in regard to the viewing angle.
Ergonomics in relation to the driving position and controls was a big focus during the development. Also, the company put high consideration in the way the Vayanne sounds, resulting in a configurable DEUS Active Sound system to enhance the driving experience.
Overall, we're pretty impressed. Hopefully the finished product will live up to the hype. Who knew that Austria could make such incredible machines, albeit with some outside help?