We Drove Jeep's All-Electric Magneto 2.0 All Over Moab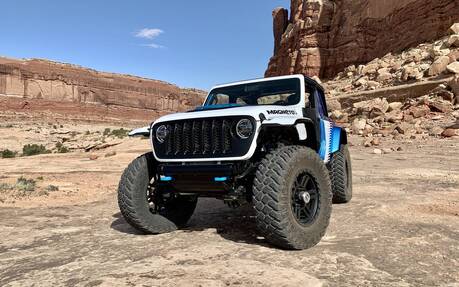 Each spring, a bunch of stunning yet fully functional Jeep concepts are on display and available for quick test drives by the many auto journalists and enthusiasts on hand at the Moab Easter Jeep Safari in Utah.
This year, the main attraction is called Magneto 2.0, an all-electric Wrangler cranked up to 625 horsepower. Naturally, we rushed over there to take it for a spin.
The Specs
This latest concept is a dramatic evolution of the original Magneto that was introduced at the 2021 Safari. The combustion engine is gone and replaced by a pair of electric motors and a 70kWh battery.
Now rated at 625 horsepower and a whopping 850 pound-feet of torque, the zero-emission Wrangler on steroids is equally suited for rocky terrains and drag strips. We're serious. Jeep claims it can bolt from 0-60 mph (97 km/h) in just two seconds.
Electric AND Manual
Another crazy thing about the Magneto 2.0 is that, despite using a fully electric powertrain, it still retains a good old manual gearbox. No EV currently on the market can say that. More specifically, the unit is a modified version of the six-speed Tremec designed for the Dodge Challenger Hellcat.
Upon start-up, you don't even need to gradually release the clutch as you would with a gas-powered Wrangler. Once the first gear is engaged, you're ready to hit the throttle and take off. The clutch is required to shift up and down afterwards, though.
What's the point of keeping a manual transmission? Well, it's just so damn fun! And how refreshing to see that some automakers still want to please true driving enthusiasts.
Wild Looks
As the pictures show, the Jeep Magneto 2.0 is no ordinary Wrangler. One of our favourite mods is the custom hood that includes a blue-tinted, transparent window giving a view of the power unit underneath.
By the way, the chassis is 12 inches longer than that of a standard two-door Wrangler, a custom 3-inch lift kit is included, and the 20-inch wheels are mounted on 40-inch off-road tires.
Jeep's First EV is Coming
While Jeep now has plug-in hybrid variants of the Wrangler and Grand Cherokee, a fully electric model is still missing from the lineup. Last month, the company teased its first electric SUV, which has no name yet but appears to be the same size as the Compass.
One thing's for sure: after having such a blast driving the Magneto 2.0 in Utah, Jeep's EV future looks quite promising to us. Off-road enthusiasts and purists will not be forgotten.
Watch: 2021 Jeep Wrangler 4xe Review