Used Mazda3: What Trim is Best For You?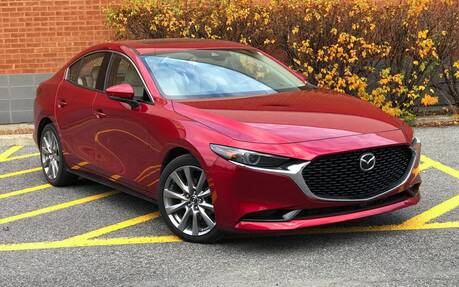 Many used car buyers are now turning to three to four-year-old models, where the steep initial depreciation is over but the vehicle generally is still in pretty good shape.
And the Mazda3 is a perfect example of this, since the actual generation was launched in 2019. Showing a more mature version of Mazda's KODO design, she has followed the way of style and refinement while offering an even more dynamic driving experience than before, and a quieter cabin too.  
Now, what version should you go for? Let's use the 2019 model as a reference.
Four or Five Doors
First of all, you have to decide whether the sedan or the hatchback (Mazda3 Sport) suits you best. The first has a 374-litre capacity trunk with a relatively small opening while the second can carry 569 litres of cargo behind the back seat and is more versatile.  
Then, the two are both offered in GX, GS and GT versions. Each of these being available with a six-speed automatic or manual transmission, except the GT sedan (automatic only). The driving enthusiasts will arguably prefer the manual gearbox, but Mazda's engineers have done pretty good work making the other efficient and fun to use, especially since it has a manual mode.
The Engines
Under the hood, you can opt for the 2.0-litre base engine (GX and GT), which creates 155 hp and 150 lb-ft of torque. It's an engine that delivers honest performance and is generally pretty reliable. For more fun, go for the 2.5-litre (GS and GT), with 186 horses and similar torque. You'll feel a good difference in acceleration.
But if fuel economy is a concern to you (with fuel prices these days, it's understandable), the best combination is an automatic sedan with a 2.0-litre engine, which uses 7,6 L/100 km on average. However, the other versions are not that much thirstier and should not consume more than a 0.5 L/100 km extra.
For an excellent quality-equipment-price value, consider a 2.5-litre Mazda3 GS. You'll have heating seats and steering wheel, Apple CarPlay and Android Auto, a lane departure warning system and even possibly a sunroof. The highest level of equipment is naturally found in the GT: 18-inch wheels, leather seats, additional safety equipment, etc.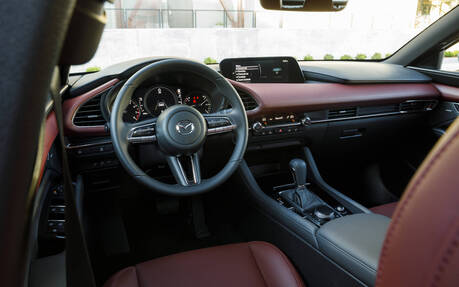 Two or Four-Wheel Drive
Since 2019, an all-wheel drive is available in the top-end GT version, so you'll find Mazda3 specimens equipped with a system called i-Activ. It operates beautifully to offer its driver a more confident handling in all seasons. You might notice a substantial price difference when comparing with the two-wheel drive version, but it's worth the extra spending, especially if you're looking for an SUV alternative.
Now, if your budget is tight and a Mazda3 2014 to 2018 is more within your price range, click on the link to get more information and advice on these models.