Ferrari 296 GTS Introduced as Topless GTB With Same Hybrid V6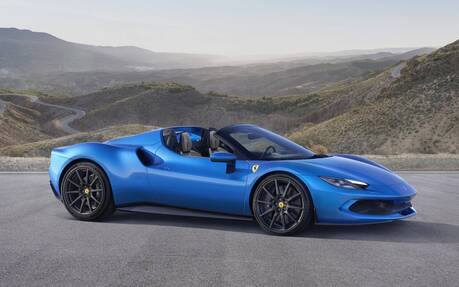 We know a lot of you are curious to see Ferrari's first-ever SUV, which will be officially revealed later this year and called Purosangue, but the Italian automaker today introduced the convertible variant of its new V6-powered, plug-in hybrid sports car, the 296 GTB.
Say hello to the 296 GTS!
The coupe's sexy twin features a retractable hardtop that opens or closes in just 14 seconds at the push of a button, even when driving at speeds up to 45 km/h. As is the case with the 296 GTB, the dominant architectural feature is the signature 'aero bridge,' while the buttress theme is further enhanced by contrasting sculpted extensions that frame the engine cover screen.
A clear panel offers a view of the turbocharged 3.0-litre V6 engine. Combined with the electric motor, total output is rated at 819 horsepower and 546 pound-feet of torque, sending the 296 GTS from 0-100 km/h in 2.9 seconds and 0-200 km/h in 7.6 seconds. Top speed is well over 330 km/h—or 135 km/h in electric mode.
With a fully charged 7.45kWh battery, Ferrari claims a zero-emission range of 25 km based on the WLTP standard. Expect shorter distances on North American roads.
Another key figure worth pointing out is 1,540 kg. That's how much the 296 GTS weighs when equipped with the Assetto Fiorano performance package, which includes lighter materials, aero content and Multimatic shocks. The convertible is therefore 70 kg heavier than the coupe.
Naturally, the eight-speed dual-clutch transmission is the same. Ditto for the various electronic control systems and 20-inch wheels.
The Ferrari 296 GTS will go on sale first in Europe later in 2022 followed by other markets. Pricing has yet to be announced. By the way, the McLaren Artura—a direct rival of the 296 GTB with its own V6 hybrid system—is not available as a drop-top.