Electrify Canada Will Offer Free Vehicle Charging on Earth Day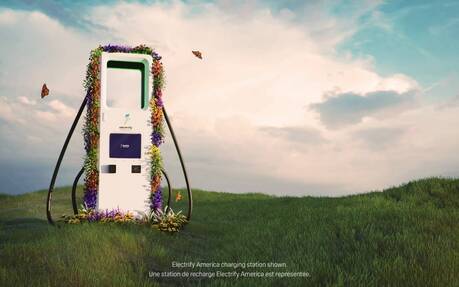 New charging stations are popping up across Canada on a daily basis. And what better way to attract new customers than to celebrate Earth day with free electricity for all! (...all EV drivers, that is).
Hence, Electrify Canada will be offering complimentary charging starting this Friday April 22 at 12:01 a.m. until Saturday April 23 at 3:00 a.m. EDT. Electric vehicle drivers across the country can use any of the network's DC Fast charger and get a free charging session. The company also stipulates that there is no promo code needed, just pull up, plug in and the cost of all charging sessions will be covered.
"Driving an electric vehicle is something that individuals can do every day to live more sustainably," says Robert Barrosa, senior director of sales, business development & marketing at Electrify Canada. "Electrify Canada is happy to provide a little thank you to those who have already made the commitment to drive electric and help advance the goal of a more sustainable future."
Electrify Canada's network is relatively small. It is composed of 30 stations in Quebec, Ontario, Alberta and British Columbia. Each location has four spots offering 150kW and 350Kw chargers.
But the company plans to expand to more than 100 charging stations with over 500 individual chargers by 2026.
The company is also throwing in a $65 rebate on its HomeStation Level 2 home charger from April 18 to 30, 2022.