New Volkswagen ID. Buzz Sketch Hints at Pickup Variant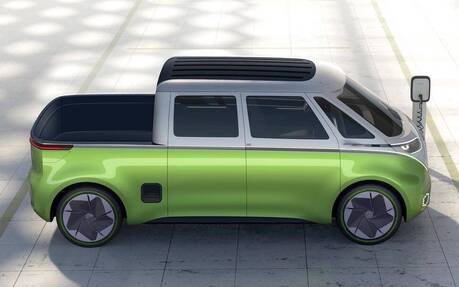 A few days after Volkswagen of America CEO Scott Keogh said the company was "actively looking" at the idea of building an electric pickup, signs point to the all-new ID. Buzz minivan morphing into exactly that.
It makes perfect sense for Volkswagen to want to sell multiple ID. Buzz models and configurations. The lineup will start with short-wheelbase passenger and cargo models in Europe, then expand with a long-wheelbase, three-row body style for North America (to be revealed in 2023 and sold from 2024).
A camper variant is likely coming, as well, and now chief designer Klaus Zyciora is hinting at a pickup. He recently posted on Instagram a never-before-seen sketch of an ID. Buzz featuring a crew cab and open cargo bed, and asked: "Shall we bring it to the next level?"
Voir cette publication sur Instagram
Unsurprisingly, his many followers made it clear that it would be a great idea. By the way, this sketch is not based on the production ID. Buzz but rather the concept from 2017. Unfortunately, it's the only one we have so far.
This comes at around the same time that a report by Reuters suggests Volkswagen is considering an expansion of its plant in Chattanooga, Tennessee to build not only the ID. Buzz but also an all-electric pickup, according to people familiar with the matter.
Back in March, Volkswagen announced an investment of $7.1 billion USD (just shy of $9 billion CAD) over the next five years in the North American region to boost its product portfolio, regional R&D and manufacturing capabilities. The automaker plans to launch more than 25 new electric vehicles across its various brands (Volkswagen, Audi, Porsche, Bentley, Lamborghini) by 2030.
Watch: Volkswagen ID. Buzz Makes Global Debut