2022 Audi S3: The Consolation Prize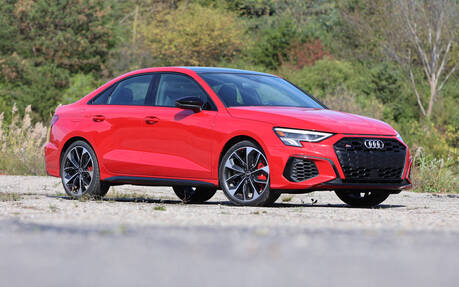 A few months ago, The Car Guide was invited to test drive the mighty new Audi RS 3 in Europe. We were led to believe that the car would be offered in Canada this year, but the company changed its mind at the last minute. If you want one, you'll have to cross the border and buy it from a U.S. dealer instead.
Should we assume Canadians don't like high-performance small sedans? You tell me. The S3, a sportier variant of the base Audi A3, is still around. On the other hand, Mercedes-Benz has decided to kill the A-Class after 2022.
We're also bummed that Audi continues to deny us the five-door S3 that is available across the Atlantic. That means hot hatch enthusiasts in Canada must turn to the Volkswagen Golf R, which shares the same powertrain and chassis. The S3 is a bit more refined, mind you, boasting superior luxury, fit and finish. While the Golf R's fully digital instrument panel is graphically underwhelming, its Audi cousin combines a more user-friendly touchscreen with sharper digital instruments for a more inspiring layout overall.
The front seats are nicely sculpted and contribute to an ideal driving position, but what's the deal with the fat centre console? Considering the few controls on it, designers could have easily made the console much slimmer and thus increase passenger space. Larger drivers will feel cramped. It's the same thing in the rear, which is why many customers don't mind extra for the more spacious S4.
Fun and Responsive
While the 2022 Audi S3 has fewer drive modes than the Golf R (it misses the oh-so-desirable Drift mode, in particular), it can adapt to a wide array of scenarios. You can play it cool with Comfort mode or really crank things up with Sport mode. Turbo lag is annoying when accelerating from a standstill (the S tronic gearbox is partly to blame), but once up to speed the S3 proves quite athletic and responsive. By the way, unlike the Golf R, the S3 is automatic only.
With a turbocharged 2.0-litre four-cylinder engine producing 306 horsepower under the hood, this little sedan is potent and incredibly agile. For sure, it does a more impressive job than the disappointing BMW M235i Gran Coupe and even the Mercedes-AMG A35.
Powerful braking, ultra-sharp steering and a properly tuned suspension help the S3 stand out from the competition. The ride can be stiff on some rougher stretches of pavement, though, one reason being the 19-inch wheels mounted on low-profile tires. For winter, it's best to opt for 18-inch units.
Obviously, the S3 is not the muscular, aggressive car that the RS 3 is. It's also more buttoned-down than the Golf R. However, the drive is a blast—no way you'll get tired of it. In fact, the biggest threat to the S3 might very well be the S4, which is equally skilled, yet more explosive (349 hp) and more spacious. Plus, the price gap isn't that significant especially when factoring in lease deals.
Ultimately, it's up to you to choose the Audi sedan that best suits your style and budget. Trust me, you can't go wrong either way.
Watch: 2022 Audi RS 3 First Drive
Test drive report
Test model

2022 Audi A3

Trim level
S3 Technik TFSI quattro
Price range
$38,900 – $53,900
Price as tested
53 900 $
Warranty (basic)
4 years/80,000 km
Warranty (powertrain)
4 years/80,000 km
Fuel economy (city/highway/observed)
10,0 / 7,2 / 9,1 L/100km
Options
Metallic paint ($890), red brake callipers ($400), Audi Connect Plus ($420), Audi Phone Box ($350), LED headlights ($600), Handling Package ($1,600)
Competitive models
2022 BMW 2 Series, 2022 Cadillac CT4, 2022 Mercedes-Benz CLA, 2022 Volkswagen Golf R (auto)
Strong points

Great handling
Beautiful performance
High build quality

Weak points

Tight interior
Expensive with options
RS 3 is not available in Canada

Editor's rating
Fuel economy
The S3 is reasonably efficient, though premium gas is required.
Comfort
The suspension is stiff and fewer adjustments are possible than with the Golf R.
Performance
The little sports sedan packs a mean punch.
Infotainment
The system is sharp and user-friendly.
Driving
So much fun. Too bad we can't have the Golf R's drive modes.
Overall
The S3 is a great car, but it proves more expensive and less versatile than its VW-branded cousin.