5 Pre-Owned Convertibles to Enjoy Summer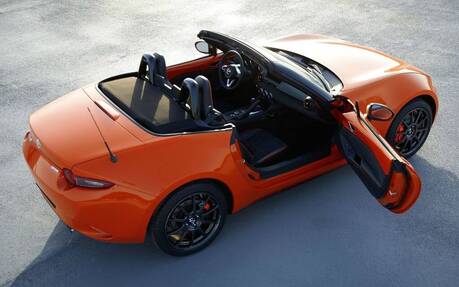 Convertible season just started and you're still looking for an affordable model for the summer? Have you thought about a pre-owned convertible?  
Because many automakers have abandoned this segment over the last decade, you currently have more options when shopping for used cars than new ones. No matter what your choice is, you must make sure it has been thoroughly inspected—from the tires to the roof—to avoid any bad surprise.  
To help you find the right vehicle, here are five pre-owned convertibles you should consider:  
Mazda MX-5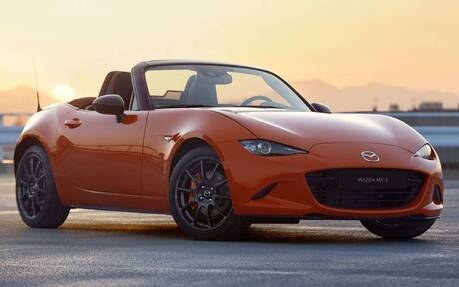 Convertible and driving pleasure are synonymous, and that's what the Mazda MX-5 does. Despite its tight interior (getting into one feels like putting on a leather glove), and tiny trunk, the MX-5 offers a unique driving experience. It sticks to the road, its manual transmission is a real delight and its sporty looks make heads turn. The engine's power has gone from 155 to 181 horsepower in 2019.
Most examples have a soft top that easily folds back into a special compartment above the trunk, but the MX-5 RF (Retractable Fastback) is more like a coupe-convertible with a retractable hard top.
Volkswagen Beetle Convertible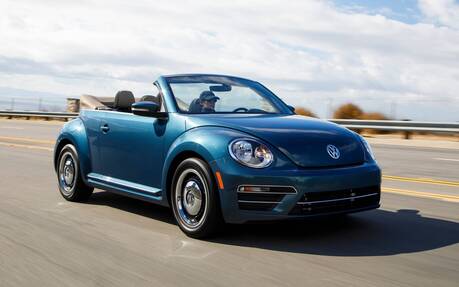 Volkswagen has offered us several convertibles, including the Golf Cabriolet and the Eos hard top. However, we'll focus our attention today on the Volkswagen Beetle Convertible, which is more recent, but also the one with the most timeless design. It's undeniably fun to drive thanks to its precise steering, of which only Volkswagen seems to know the recipe, and turbocharged four-cylinders ranging from 170 to 210 horsepower.  
If you can find a special edition like the Dune, the Classic, the Wolfsburg or the Pink, it will be even more special.  
Ford Mustang Convertible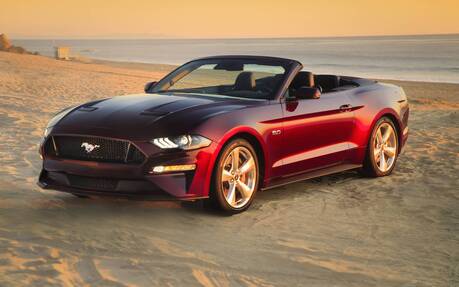 Many Quebecers have a soft spot for the Ford Mustang, and its convertible version is one of the reasons why. We've had a couple warm days already, have you seen one out yet?
The GT with a V8 remains a classic, but you'll also find it with a four and a six-cylinder, and on the other end of the spectrum, you'll find the mighty Shelby GT350 and GT500. Note that since 2015, an independent rear suspension has been added—a first in the Mustang's history—making it more comfortable and stable.  
Porsche Boxster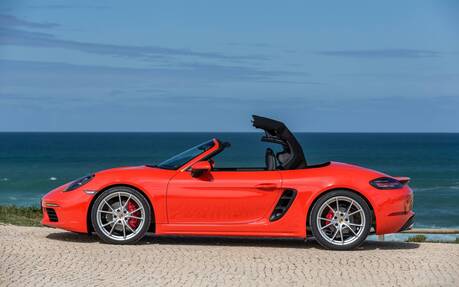 As far as luxury convertibles go, not everyone can afford a Porsche 911, and that's why the company launched the Boxster a few years ago. Before the current generation, which started in 2017 (and bears the name 718 Boxster), Porsche's entry-level central engine convertible had had time to seduce many drivers with its different trims and enhancements from year to year.  
Its light weight compared to the 911 is another quality people like. As for power, it has plenty (up to 380 horsepower). By the way, the dual-clutch PDK transmission added in 2010 made the acceleration time even shorter.
Mitsubishi Eclipse Spyder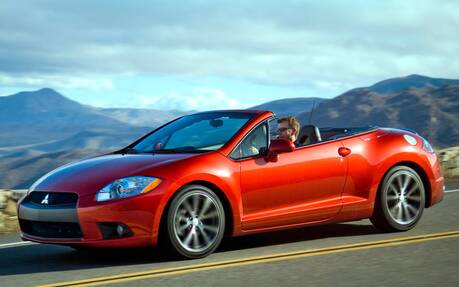 In a different category, the Mitsubishi Eclipse Spyder is a very affordable alternative. Abandoned in 2012, it offered a choice of two engines: a 2.4-litre four-cylinder producing 162 horsepower, and a 3.8-litre V6 producing 265 horsepower. Its road handling is not impressive, but you'll still have a good time.
When the roof is up, the outside noise is sufficiently dampened, and water is adequately kept out.  Also, the reliability and durability of Mitsubishi's parts remain higher than average.