VinFast Details Battery Subscription Prices for Canada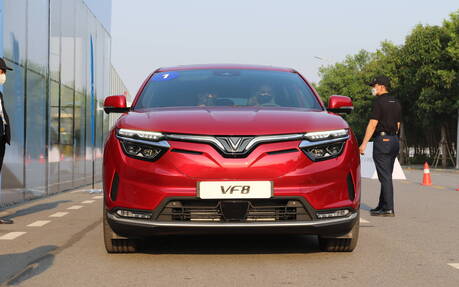 VinFast has finally released full pricing details for the 2023 VF 8 and VF 9, two all-new electric SUVs from Vietnam that will land here in the second half of 2022. This includes battery subscription fees for each vehicle.
First of all, both the midsize VF 8 and the larger VF 9 come in two trim levels—Eco and Plus.
The VF 8 Eco and VF 8 Plus equipped with the standard battery offer a WLTP-estimated range of 420 km and 400 km, respectively, with a base MSRP of $50,850 and $59,350. A higher-capacity battery increasing the range to 471 km and 447 km will be available in 2023 for a premium of $400.
Meanwhile, the VF 9 Eco and VF 9 Plus featuring the standard battery and estimated at 438 km and 423 km of range, respectively, carry a base MSRP of $69,150 and $75,650. Once again, a higher-capacity battery will be available in 2023, increasing the range to 594 km and 580 km, for a premium of $600.
Only the VF 8 is eligible to EV rebates from the Canadian government ($5,000) and provincial governments (up to $8,000). As for actual range figures based on North American test cycles, we should get them sometime in the next few months.
Battery Subscription
As previously mentioned, VinFast customers will have to lease the battery under a monthly subscription program. With the VF 8, the Fixed plan with unlimited km costs $139, while the Flexible plan starts at $39 for the first 500 km and adds $0.09 per extra km.
In the case of the VF 9, the Fixed plan costs $199, while the Flexible plan starts at $59 for the first 500 km and adds $0.11 per extra km.
Interestingly, customers who make a reservation for the VF 8 or VF 9 in 2022 and subscribe to the Fixed plan will be offered a permanent subscription fee for the product's lifetime. This policy is automatically transferred to the new owner after the vehicle is sold.
Furthermore, VinFast commits to providing a lifetime battery warranty covering all maintenance and repair costs and will replace the battery for free when charging capacity dips below 70 percent. Of course, the company will also be responsible for recycling used batteries to minimize environmental impacts.
From 2024 onwards, approximately half of VinFast's electric vehicles sold will be applied with the battery subscription policy. The other half will be sold with batteries as market practice.