2023 Genesis GV60: Sleek Looks, Scary Price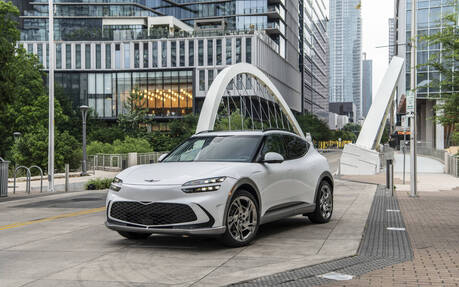 Let's make one thing perfectly clear right away: the all-new 2023 Genesis GV60 is not cheap. The base Advanced and top-line Performance models start at $71,000 and $79,000, respectively.
You know what that means, of course. Genesis' first-ever electric vehicle is not eligible to any EV rebates from the governments.
While in Austin, Texas for the media launch of the GV60, Genesis Motors Canada CEO Lawrence Hamilton confirmed to us that the company took 500 pre-orders (with a refundable $1,000 deposit) and that delivery times will be anywhere between 6-12 months. Once again, customers will have to be patient.
Two Output Levels
Now that we've addressed pricing and availability details, let's focus on the vehicle itself. Built on the same Electric-Global Modular Platform (E-GMP) that underpins the Hyundai IONIQ 5 and Kia EV6, the Genesis GV60 will be sold in Canada in dual-motor AWD configuration exclusively.
The GV60 Advanced features a 74kW front motor and 160kW rear motor. Total output is rated at 314 horsepower, while peak torque is 446 pound-feet. Genesis claims a range of up to 399 kilometres.
In the case of the GV60 Performance, two 160kW motors deliver a combined 429 horsepower. When drivers push the "Boost" button on the steering wheel, that number increases to 483 horsepower for 10 seconds. Torque can go as high as 516 pound-feet. On the flip side, range drops to 378 kilometres.
By the way, towing capacity is 2,000 pounds when properly equipped, which means a trailer with electric brakes, among other things.
Fast Charging
Both Genesis GV60 models draw energy from a 77.4kWh battery. A full charge from 0-100 percent capacity takes 7 hours and 5 minutes using a level-2 charger at up to 11 kW. Fast charging from 0-80 percent capacity can be done in 73 minutes via a 50kW DC charger or just 18 minutes with a 150kW charger.
Of course, various factors such as outside temperature can affect charging times. The operation is slower in winter even though the GV60's battery can be pre-conditioned before hitting the road.
Ride and Handling
Our first experience behind the wheel of the GV60 involved the sportier Performance model. It not only has more power and torque, but also an electronically controlled damping system that uses data from a front-mounted camera scanning the road in real time. Furthermore, an electronic rear differential sends more torque to the outside wheel in a corner for improved handling, while a Drift Mode can help you take the GV60 sideways. Oh, and 21-inch wheels replace the 20-inch units on the base Advanced model. Michelin Primacy Tour all-season tires are standard on both.
In typical EV fashion, acceleration is brisk at any speed due to the instant torque generated by the electric motors. The GV60's Boost function is great for passing manoeuvres, especially on byroads.
However, at 2,218 kilograms, the heavier Performance model has a tough time dealing with sharp turns. That could be a problem for some, although most owners will likely just try to impress their passengers with powerful straight-line sprints.
Various drive modes and energy recuperation levels are available. Paddles on the steering wheel make it possible to adjust the intensity of the regenerative brakes, from a scale of 0-4. When set to 4, one-pedal driving is possible. The GV60 also features Smart Regen, which adapts energy recuperation based on driving characteristics and the route planned in the navigation system.
Sleek Looks
The most fascinating aspect of the new Genesis GV60 is arguably the exterior design. This little crossover gets its own identity with softer, more rounded shapes while still integrating many of the brand's design cues such as the signature Two-Line Quad Lamps. The grille is lowered and flattened since there's no combustion engine to cool under the clamshell hood.
The coupe-style profile of the GV60 is punctuated at the rear by a fixed spoiler. No fewer than 12 body colours are available, which is refreshing. Sāo Paulo Lime, Hanauma Mint and Atacama Copper, in particular, are quite striking. Unfortunately, similar to the IONIQ 5 and EV6, the rear window is missing a wiper, which will prove a major inconvenience in winter.
Facial Recognition and Fingerprint Scan
The Genesis GV60 also emphasizes technology. One of the futuristic features that caught our attention is a facial recognition camera on the outside that identifies the driver and automatically unlocks the doors—no keyfob or smartphone needed. Inside, there's a fingerprint scanner to start the vehicle instead of having to push a button or use a mobile app.
Two user profiles can be created, thus allowing two different drivers to take advantage of these advanced security measures in addition to seat and mirror position, radio presets and more.
Also notable is the Crystal Sphere, a ball-shaped Shift-By-Wire that intuitively informs drivers when the GV60 is ready to drive (and serves as mood lighting when the vehicle is turned off). Elsewhere, two 12.3-inch displays are used for the instruments and infotainment system—exactly like what you'll find in the IONIQ 5, but with unique graphics.
Bottom Line
The 2023 Genesis GV60 is a luxury-oriented electric crossover with a high price tag that fails to qualify for federal and provincial EV rebates in Canada. Acceleration and range are satisfying, but handling is marred by the heavy weight while the missing rear window wiper compromises visibility and safety in foul weather.
Test drive report
Test model

N/A

Trim level
Performance TI
Price range
$71,000 – $79,000
Price as tested
CA$79,000
Warranty (basic)
5 years/100,000 km
Warranty (powertrain)
5 years/100,000 km
Fuel economy (city/highway/observed)
N/A
Options
N/A
Competitive models
2022 Audi e-tron, 2022 Jaguar I-PACE, 2022 Volvo C40 Recharge
Strong points

Sleek and unique exterior
Interior fit and finish is impressive
Strong acceleration at any speed
Cool tech and gadgets

Weak points

No EV rebates apply
Long delivery times
Lack of a rear window wiper
Heavy weight that affects handling

Editor's rating
Fuel economy
The GV60 achieves a combined 21.7 kWh/100 km.
Comfort
Wind and road noise is present despite the vehicle's active noise cancellation technology.
Performance
Acceleration is brisk at any speed, but the heavy weight affects handling.
Infotainment
The infotainment system is sharp and user-friendly.
Driving
N/A It's more about comfort than agile handling.
Overall
N/A We like the GV60 a lot, except for the high price and lack of a rear window wiper.