The Car Guide's Best Buys for 2022: Porsche Taycan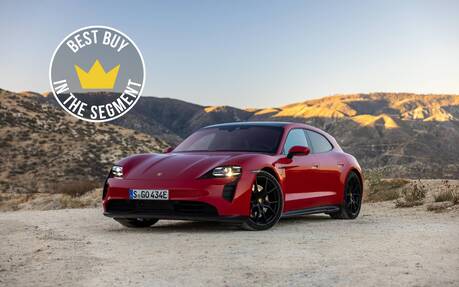 Every year, The Car Guide unveils a list of Best Buys covering all the different vehicle categories in the industry.
We've split electric vehicles into two separate categories. Here you'll find luxury electric vehicles including both passenger cars and crossovers.
The Winner
In what is a funny mix of models, the Porsche Taycan comes out on top in our opinion. The German automaker's first fully electric car is available in sedan and wagon configurations, the latter called either Sport Turismo or Cross Turismo depending on what you're looking for.
Trim levels include 4, 4S, GTS, Turbo and Turbo S (even though there's no turbocharger anywhere), with performance increasing accordingly. A rare two-speed transmission handles power delivery, and no matter which model you choose, acceleration and passing manoeuvres are quite energetic. The Turbo and Turbo S will catapult you into another dimension.
The Taycan also ranks first thanks to spirited yet stable handling despite a heavy weight. Interior fit and finish is impressive, especially when compared to our runner-up.
Other Finalists
The Tesla Model S lands in second place for 2022. While build quality issues are still present and the car is getting old, regular system updates keep it competitive and attractive. Also, Tesla is the only EV maker to have its own network of DC fast chargers—and they're not called Superchargers for nothing.
Technology is fantastic with the most advanced infotainment system around, which is constantly made better by over-the-air updates. And just like the Taycan, the Model S is super-explosive: the Plaid variant can take you from 0-100 km/h in just 2.1 seconds. On the other hand, steering is not as precise and provides less feedback than the Porsche.
In third place, the Audi e-tron is a larger vehicle than the two aforementioned sedans. It can be ordered in traditional SUV or coupe-like Sportback body style, the latter featuring a swooping roofline and less cargo room.
Acceleration is strong even though the e-tron weighs nearly 2,600 kilograms. Range is decent but not great, especially when compared to some of the competitors.