Third of Midsize SUVs Fail IIHS' New Side Crash Test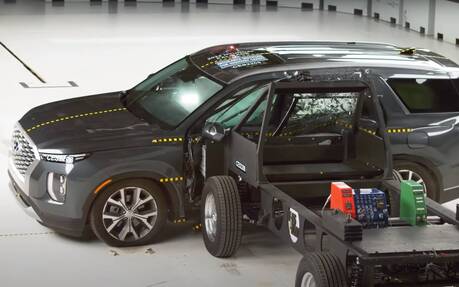 Following compact SUVs last fall, midsize SUVs were recently submitted to the U.S. Insurance Institute for Highway Safety's new side crash test, which aims to address higher-speed collisions that continue to cause fatalities on North American roads.
While the former failed miserably, how did their bigger counterparts perform? A lot better, it turns out, but not as well as one could have wished for.
Ten of the 18 midsize SUVs in the evaluation earned a "good" rating: Ford Explorer, Infiniti QX60, Lincoln Aviator, Mazda CX-9, Nissan Pathfinder, Subaru Ascent, Toyota Highlander, Volkswagen Atlas, Volkswagen Atlas Cross Sport and Volkswagen ID.4. Two more got an "acceptable" rating, namely the Buick Enclave and Chevrolet Traverse.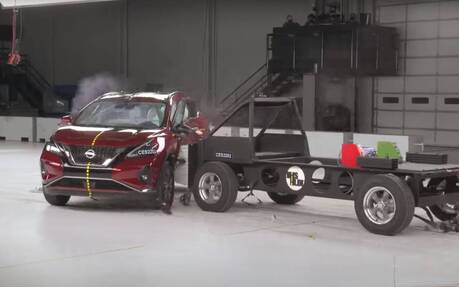 On the other hand, six models were rated as marginal: Honda Passport, Honda Pilot, Hyundai Palisade, Jeep Wrangler Unlimited, Kia Telluride and Nissan Murano. Considering that side impacts account for nearly a quarter of passenger vehicle occupant deaths, that's not very encouraging.
These SUVs could in fact lose their Top Safety Pick or Top Safety Pick+ award when the IIHS updates its requirements in 2023.
The IIHS now uses a heavier barrier traveling at a higher speed to simulate the striking vehicle. Instead of 3,300 pounds, the new one weighs around 4,200 pounds, which approximates the weight of most modern midsize SUVs. And instead of striking the test vehicle at 50 km/h, it hits it at 60 km/h.
The Wrangler, which does not have side airbags for the rear seating positions, earned a poor rating for passenger head protection. However, along with the CX-9 and ID.4, it was among the only midsize SUVs to earn good ratings for preventing injuries to the driver's pelvis—the body region most frequently injured in real-world side crashes, the IIHS notes. The Palisade and Telluride each received a poor rating here.
Small SUVs also struggled with driver pelvis injuries, but they performed markedly worse than midsize models in preventing injuries to the chest or abdomen, perhaps due to their lower height relative to the striking barrier.
"A higher-riding vehicle may benefit from the barrier striking lower on its side," says Raul Arbelaez, vice president of the IIHS' Vehicle Research Center.