2022 GMC Sierra AT4X: The Best of Both Worlds?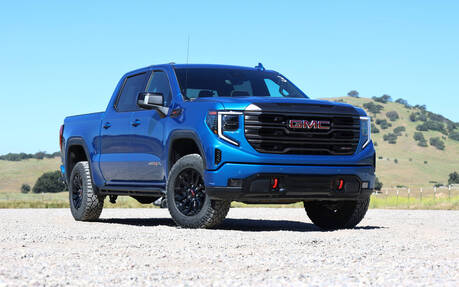 Yeah, don't bother telling me: a pickup truck that achieves 15-16 L/100 km is not the best of both worlds, especially with gas prices these days. I know that.
But you see, GMC has decided to push the AT4 lineup a little bit further given the strong demand by customers. The Sierra, which is largely updated for 2022, gets a new AT4X model that could possibly represent the ideal mix of Denali-like luxury and AT4 levels of off-road capability. It's a curious combination on the surface, but one that could end up being highly profitable for the company.
As you know, GM's full-size pickups are big business, particularly on the luxury side. Believe me, the new Sierra AT4X is one of the finest. While it may start at $87,748 including destination and PDI, this truck is almost fully loaded with very few options that can be tacked on. You might be wise to consider a tonneau cover, running boards or rocker guards, mind you.
Single Configuration
The GMC Sierra AT4X comes exclusively with a Crew Cab, short bed and 6.2-litre V8 engine, the latter producing 420 horsepower and 460 pound-feet of torque. It's a wonderful performer that unfortunately burns a whole lot of gas. Why didn't GMC offer a diesel option? That would have been awesome. The decision must be a strategic one, but the logic behind it escapes me.
The Sierra AT4X is essentially the GMC equivalent of the new Chevrolet Silverado ZR2—same ground clearance, same body style, same suspension. That last item is arguably the most impressive aspect on the pickup, with Multimatic DSSV spool-valve dampers that deliver remarkable ride quality in addition to 50mm of extra travel up front and 20mm extra in the rear. The suspension adjusts quickly to the terrain and does a nice job of mitigating rear-wheel hops.
Locking front and rear differentials, Goodyear Wrangler DuraTrac tires on 18-inch wheels and dedicated off-road modes are also part of the AT4X package, which elevates the Sierra above the Ram 1500 Rebel and Ford F-150 Tremor.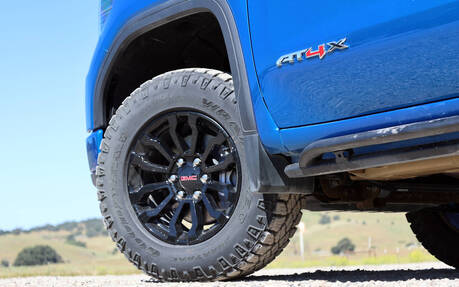 Unlike the Silverado ZR2, though, the cabin of the GMC Sierra AT4X puts a big focus on refinement and luxury. The unique Obsidian Rush interior is awash with premium leather, dark Vanta ash wood trim, a premium microsuede headliner and massaging front seats. Also, the old centre display and column-mounted shifter are replaced by an all-new 13.4-inch infotainment touchscreen with Google built-in and a new centre console design with Electronic Precision Shift.
The versatile console, despite reducing the amount of space up front, is a definite improvement. After years of trailing Ford and Ram by a mile, GMC designers and engineers have worked really hard to catch the competition by maximizing ergonomics and elevating interior styling.
As for the exterior, the 2022 Sierra's redesigned front end features smoother surfaces, but it's not any more aerodynamic. The AT4X model looks an awful lot like the regular AT4 except for the 18-inch black wheels and specific badging.
Wait, There's More
Think the new AT4X is the cream of the Sierra crop for 2022? You're wrong. GMC has raised the bar even higher with a spectacular Denali Ultimate model that will cost you a minimum of $92,923. And you can have the gasoline V8 or the Duramax diesel with this one.
Watch: GMC Unveils 2022 Sierra 
Test drive report
Test model

2022 GMC Sierra 1500

Trim level
AT4X
Price range
$85,748
Price as tested
CA$90,783
Warranty (basic)
3 years/60,000 km
Warranty (powertrain)
5 years/160,000 km
Fuel economy (city/highway/observed)
16.5 / 13.2 / N/A L/100km
Options
Cargo Package ($730), Dynamic Blue paint ($495), rocker guards ($1,360)
Competitive models
2022 Ford F-150, 2022 Ram 1500 Rebel Crew Cab 4x4 (5.6'), 2022 Chevrolet Silverado 1500, 2022 Toyota Tundra TRD Off-Road CrewMax 4x4 (5.5')
Strong points

Amazing suspension
Surprisingly comfortable
Powerful and capable V8

Weak points

Poor fuel economy
Reduced towing capacity
Hefty price

Editor's rating
Fuel economy
Achieving a combined 15 L/100 km, the Sierrra AT4X is a true gas guzzler.
Comfort
While not as comfortable as a Denali model, this truck impresses with Multimatic DSSV dampers and extra travel.
Performance
Power is remarkable. So is capability.
Infotainment
The system should serve as an example for others.
Driving
Handling is surprisingly good and the upgraded suspension ensures tremendous versatility.
Overall
A superb product and alternative to the Ford F-150 Tremor and Ram 1500 Rebel, though quite expensive and inefficient.