2022 Hyundai Kona N Line: Just Sporty Enough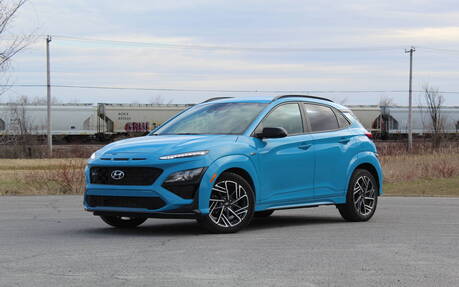 The Hyundai Kona is the Korean brand's best-selling vehicle in Canada, but in order to stay ahead of the curve, a refresh was performed for 2022 along with several safety and infotainment upgrades.
While the fully electric variant garners a lot of attention, it's the conventionally powered Kona that continues to account for the vast majority of sales. Sporty drivers and performance enthusiasts now have two options including the 276-horsepower Kona N and the tamer Kona N Line. We recently put the latter to the test.
Before going any further, it's worth pointing out that the 2022 Hyundai Kona lineup (gas models only) ranges from $22,099-$39,999 plus $1,825 freight and PDI. Our tester landed right in the middle at $28,199.
Friendly Crossover
The Hyundai Kona goes up against the likes of the Chevrolet Trailblazer, Honda HR-V, Kia Niro/Seltos, Mazda CX-30, Nissan Qashqai, Subaru Crosstrek and Volkswagen Taos, just to name a few. People like the cute design and large selection of models, but no so much the amount of space for rear passengers and cargo.
Inside, the Kona N Line boasts a clean and ergonomic layout. Most of the controls come in the form of physical buttons, which is good. On the other hand, the cabin is dark and lacks flair.
The seats provide adequate support for the legs and back despite missing lumbar adjustments. Taller drivers will probably wish for slightly longer seat bottoms and larger seat backs, though. Red topstitching and N logos add an exclusive touch. 
The instrument cluster comprises a pair of analogue gauges and an easy-to-use 4.2-inch information display, while the eight-inch centre touchscreen is ideally positioned and available with wireless Apple CarPlay and Android Auto. 
Slow Transmission
On the road, the Hyundai Kona N Line is a playful handler thanks to a short wheelbase, 18-inch wheels and nice steering calibration. The suspension is on the firm side, but not so much as to make the ride unpleasant.
Under the hood is a turbocharged 1.6-litre four-cylinder engine that produces 195 horsepower at 6,000 rpm and 195 pound-feet of torque from 1,600-4,500 rpm. AWD comes standard along with a seven-speed dual-clutch transmission.
The DCT could definitely be improved. While it might be smooth in normal driving, downshifts are disappointingly slow when quick bursts are desired. You have to wait several tenths of a second—or more—in those circumstances. The available manual mode fixes the problem somewhat.
Another thing we found annoying was the auto start-stop system. Instead of waiting for the vehicle to come to a complete stop to turn the engine off, the system kicks in progressively. The odd variation in rpm gives the impression that the engine is stalling. What's up with that, Hyundai?
At the end of the week, we recorded an average fuel consumption of 7.5 L/100 km based on the on-board computer. Using our own calculations, we arrived at 8.2 L/100 km, which is exactly the combined rating posted by Natural Resources Canada.
Hyundai SmartSense
The Kona N Line comes with a number of Hyundai SmartSense safety and driver assistance features including Lane Keeping Assist, Lane Change Assist, Driver Attention Warning, Forward Collision-Avoidance Assist with Pedestrian Detection, Blind-Spot Collision-Avoidance Assist and Rear Cross-Traffic Collision-Avoidance Assist.
On the highway, you can set Adaptive Cruise Control and Lane Following Assist to enjoy semi-autonomous driving capability. Well, sort of. The minute you remove your hands from the steering wheel, a warning will pop up and you will be asked to resume control of the vehicle.
Ultimately, the 2022 Hyundai Kona N Line delivers a fun driving experience and has a lot to offer, but it's not the small crossover you want for cargo-carrying purposes. And as we mentioned, the transmission and start-stop system both need revisions.
Test drive report
Test model

2022 Hyundai Kona

Trim level
N Line AWD
Price range
$22,099 – $49,399
Price as tested
28 199 $
Warranty (basic)
5 years/100,000 km
Warranty (powertrain)
5 years/100,000 km
Fuel economy (city/highway/observed)
8,8 / 7,4 / 8,2 L/100km
Options
N/A
Competitive models
2022 Chevrolet Trailblazer, 2022 Honda HR-V, 2022 Kia Seltos, 2022 Mazda CX-30, 2022 Nissan Qashqai, 2022 Mitsubishi Eclipse Cross, 2022 Subaru Crosstrek, 2022 Toyota Corolla Cross, 2022 Volkswagen Taos
Strong points

Ergonomic touchscreen
Playful handler
Lots of tech for the price

Weak points

Slow transmission
Dark cabin
Start-stop system needs revisions

Editor's rating
Fuel economy
8.2 L/100 km is a decent but not great number for a small crossover.
Comfort
The suspension is on the firm side, but not so much as to make the ride unpleasant. The seats could be a tad larger.
Performance
The 1.6T engine does a nice job, but the dual-clutch transmission is poorly calibrated.
Infotainment
The centre touchscreen is ideally positioned and available with wireless Apple CarPlay and Android Auto.
Driving
The Kona N Line is a playful handler thanks to a short wheelbase, sporty suspension and nice steering calibration. Only the DCT spoils the fun.
Overall
A very compelling crossover with dynamic handling and lots of tech inside.