The Car Guide's Best Buys for 2022: Mercedes-Benz A-Class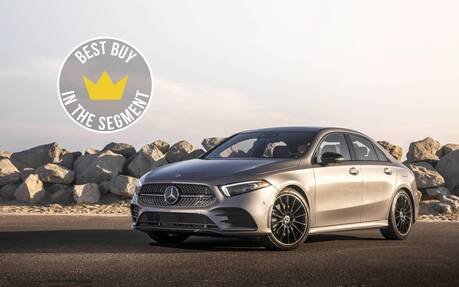 Every year, The Car Guide unveils a list of Best Buys covering all the different vehicle categories in the industry.
Small luxury cars are haven't changed much in the past year, so the No.1 spot is held by the same model as in 2021 and 2020.
The Winner
The Mercedes-Benz A-Class is available in sedan and hatchback configurations. Each one has a turbocharged 2.0-litre engine, but output is rated at 188 hp and 221 lb-ft. of torque for the former and 221 hp and 258 lb-ft. for the latter. You can definitely feel the difference when accelerating, but that doesn't mean the sedan is underpowered.
In terms of handling, the hatchback displays a bit more agility. The ride is firm but not excessively so—daily commutes are fine.
Performance enthusiasts can turn to the AMG A 35 4MATIC, whose turbocharged mill cranks out 302 hp and 295 lb-ft. of torque. These numbers translate into 0-100 km/h sprints in under five seconds, which is impressive and a whole lot of fun.
By the way, the A-Class will be dropped after the 2022 model year, so hurry if you want to buy one.
Other Finalists
Our runner-up is the Audi A3, which is largely refreshed for 2022. It's a dynamic performer and solid vehicle all-around, even more so in S3 trim. Too bad the hot and explosive RS 3 isn't coming to Canada, after all.
As for third place, we picked another German car, namely the BMW 2 Series. On one hand, there's the two-door coupe and convertible that deliver strong performance and a fun driving experience, no matter which engine lies under the hood. On the other hand, the four-door Gran Coupe model is a FWD car that proves more versatile but has a much different feel than the two-door variant.