Meet MegaBronc, the Wild Child of a Ford Bronco and F-250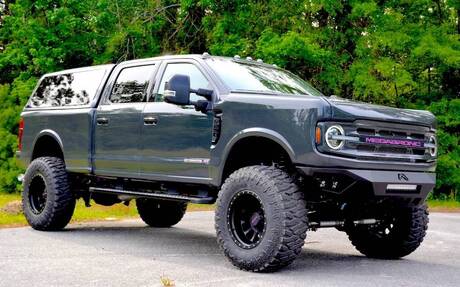 Back in 2016, North Carolina-based MegaRexx made headlines with the debut of the MegaRaptor, a heavily modified Ford Super Duty pickup riding on ginormous 46-inch tires and ready for the apocalypse.
Six years later, the company is at it again. Its latest build is called MegaBronc, and it's the answer to fans of the new Ford Bronco who would like to take a wild ride with six of their buddies and tow massive loads.
As you can see on the pictures, this seven-passenger truck literally dwarfs the Bronco. Under the extra-large custom fenders are 40-inch mud-terrain tires lifting the Dana 60 differentials out of harm's way during off-road crusades.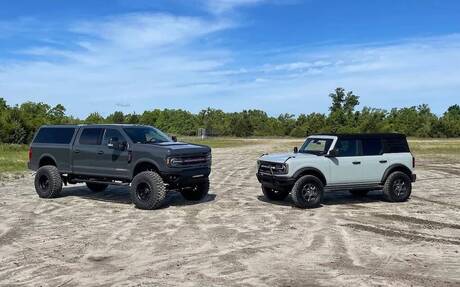 While the suspension is upgraded with a number of performance components, careful attention was paid to keep the vehicle's centre of gravity reasonably low (at least that's what MegaRexx claims). Of course, suspension travel is increased for better off-road capability, while the wider tracks bring extra stability to the drive.
The heart and soul of the MegaBronc is Ford's 6.7-litre Power Stroke V8, generating 475 horsepower and a class-leading 1,050 pound-feet of torque. It's mated to a 10-speed automatic transmission, but the exact towing capacity is not specified (this diesel burner can normally tow up to 22,800 pounds in the Ford F-250).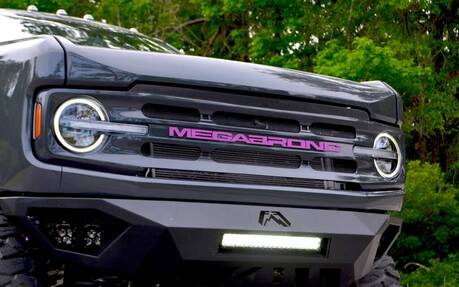 The hood, front fenders and bed sides are all made of fibreglass, just like the fully removable hardtop. The custom grille is flanked by the Bronco's signature LED headlights. Below, the custom front bumper incorporates a 20-inch light bar.
Other modifications have been made to the Super Crew cabin. The second-row bucket seats are exact matches for the driver and front passenger seats, and the power-folding third-row seats with matching upholstery are sourced from the Ford Expedition.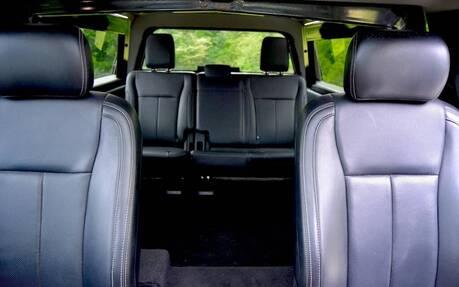 So, how much does the MegaBronc cost? Pricing is set at $224,950 USD, or the equivalent of $282,000 CAD. But don't forget about the outrageous fuel bills. MegaRexx says it can help with shipping and may personally deliver the truck to customers, depending on where they're located.