All-New Lamborghini Huracán Tecnica Makes Canadian Debut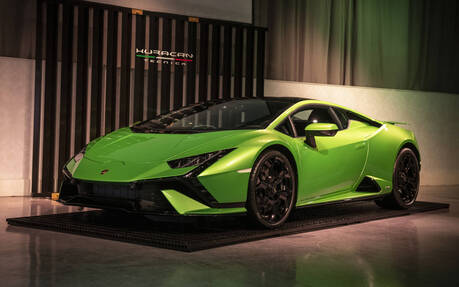 Following its world premiere at the New York Auto Show back in April, the all-new 2023 Lamborghini Huracán Tecnica made its first appearance in Canada on Wednesday during a private event for Lamborghini customers and other guests at the Liberty Grand Entertainment Complex in Toronto.
Andrea Baldi, CEO of Lamborghini for North America, and Mitja Borkert, global head of design, were also on hand.
The Huracán Tecnica bridges the gap between the EVO and STO as a perfect blend of track performance and everyday fun—the kind of versatility that should appeal to a number of potential customers, according to Lamborghini execs.
It sports a unique design and emphasizes lightweight components, with a dry weight of just 1,379 kilograms. Carbon fibre is used more extensively, while the rear wing is fixed instead of using an active system that would add further weight. Aerodynamics are improved including a 20-percent drag reduction.
The 5.2-litre V10 engine comes from the STO and generates 631 horsepower versus the EVO's 602 horsepower. It's also tuned to deliver a particularly sharp sound at higher revs. The Huracán Tecnica retains a RWD configuration and can sprint from 0-100 km/h in 3.2 seconds. Agility is enhanced by revised suspension tuning and rear-wheel steering.
Borkert explained to us that one of the main goals was to give the car a more aggressive new look, and it starts with the Y-shaped signature of the front fascia along with redesigned headlights. Additionally, the Tecnica is 6.1 centimetres longer than the EVO, resulting in a more athletic-looking stance.
Designers were inspired by concepts like the Terzo Millennio, Essenza SCV12 and Vision Gran Turismo, the last one influencing the new 20-inch Damiso wheels with a hexagonal design. The reshaped rear end is where you'll find Borkert's favourite element: a new vertical rear glass window that improves visibility along with a redesigned engine hood that makes it easy to appreciate the V10 underneath.
Customers across Canada will begin taking deliveries of the new 2023 Lamborghini Huracán Tecnica this summer at a suggested retail price of $279,630. We fully expect many if not all of them to take advantage of the Italian automaker's Ad Personam customization program.
By the way, Lamborghini achieved another sales record in North America in 2021. The momentum continues so far this year, with 1,436 cars delivered to customers through May including a sharp increase in sales across Canada.