Kia Rondo Or Mazda5: Which One Should You Choose?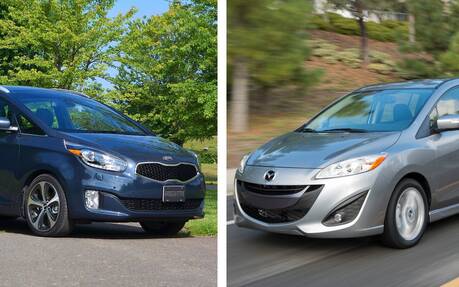 For different reasons, a minivan or a large SUV might not be the best choice for some, even if their family is big enough to justify a third row of seats. What options are left then?
Some smaller six or seven-seater vehicles can do the trick in terms of space, convenience, and budget especially. They're also more energy efficient.
The Dodge Journey first comes to mind. It has sold in huge numbers until its retirement at the end of model year 2020. Other relevant models include the Kia Rondo and the Mazda5. Are you hesitating between theses two? Let's take a closer look at them.
Kia Rondo
With its optional third row, the Rondo can accommodate 7 people, which makes it highly convenient. It's more of a crossover than a minivan, especially with its traditional, non-sliding side doors.
The first generation (2007-2012) had a 175-horsepower four-cylinder, and a 192-horsepower V6, but the second generation (2014-2017) only had the base engine, which had been reduced to 164 horsepower, and offered an interestingly low fuel consumption.  
Mazda5
Axed after 2017, it was a true "minivan", sliding doors included. In its early days, the Mazda5 could accommodate 7 people, but after a redesign, it became a six-seater.
The first generation (2005-2010) had a 153-horsepower four-cylinder. Same thing for the second (2012-2017), but with an added 4 horsepower for a total of 157. It offered a rather dynamic driving experience, thanks to well-calibrated steering and suspension.  
Comparison
In terms of size, it's interesting to know that both models have an identical wheelbase, but the Rondo is wider, more powerful and lighter. Its cargo volume is also superior. In addition, its recent versions offer a modernized cabin.  
Despite all that, the Mazda5 has maintained a better value, and is generally more reliable. Expect to pay a higher price for an example with comparable age and mileage.
Whatever your choice is, give it a good test drive, check if there's enough space at the back, and make sure you'll be able to install a baby seat easily. And don't forget the complete mechanical inspection!