2024 Chevrolet Blazer EV Fully Revealed in New Teaser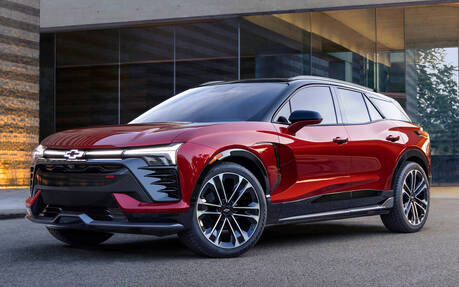 Chevrolet is giving us our best look yet at the future electric variant of its Blazer SUV, which will officially debut on July 18 and go on sale in the spring of 2023.
Most specifications including range, power and torque will be known a little more than a month from now, but today we have a full and clear shot of the exterior design in pre-production form.
The image shows the 2024 Chevrolet Blazer EV in SS trim, continuing a long tradition of performance at Chevy. As you can see, the front end looks somewhat similar to the refreshed-for-2023 Blazer (which we also included in the photo gallery up top so you can compare the two), but with slightly more aggressive styling and a unique signature including an illuminated bowtie and light bar connecting the headlights.
Larger wheels and a stretched profile further define the Blazer EV, whose entire upper section is finished in black—at least on this particular model.
And what's up with the scalloped area between the left front fender and the driver's door? This is where the charging port is located, hidden behind a cool motorized door as seen in a previous teaser.
The long wheelbase of the Blazer EV hints at generous interior space and also accommodates GM's Ultium battery that feeds the electric motors. The SS model, blessed with dual motors and all-wheel drive, will likely be the most powerful and most expensive in the lineup, but rest assured that cheaper configurations will be part of the mix, as well.
By the way, the Blazer EV will slot above the Equinox EV and below the Silverado EV, two more electric Chevys set to launch next year as 2024 models. Keep following The Car Guide for all the latest on Chevrolet or subscribe to our newsletter.
Watch: 2024 Chevrolet Blazer EV SS Teaser