Volkswagen ID.4 Sedan to Rival Tesla Model 3 Later This Decade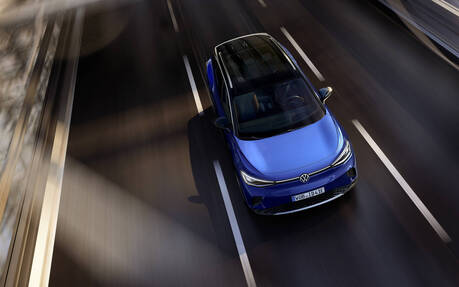 Volkswagen's next-generation EVs have arrived, although we North Americans only have access to the ID.4 crossover so far. Deliveries are ridiculously long, too, which is why the company stopped taking orders in Canada, but the good news is that the Chattanooga, Tennessee plant will start building units for our market later this year.
As it plans to overtake Tesla by mid-decade, Volkswagen would be wise to add more models soon. We seriously wish the ID.3 hatchback would come to our shores, but that's not going to happen in the short term, unfortunately.
So, what next? As confirmed in March during the world premiere of the ID. Buzz, we'll get the modern interpretation of the iconic van in a three-row configuration that is slated to debut next year as a 2024 model.
After that, well, it's anyone's guess at this point. An exciting scenario now has Volkswagen working on a sedan variant of the ID.4 that would be sold under that name, as British website Autocar reports.
Known internally as "Project Trinity," the vehicle will reportedly launch around 2026 at the same time the ID.4 gets a redesign, making the duo a direct response to the Tesla Model 3 and Model Y.
Similar to the former, it will be available in single- and dual-motor configurations, upgradable via a host of OTA updates, and blessed with level-2 autonomous driving capability. One key difference will be the rear hatch instead of a conventional trunk.
Autocar also suggests the ID.4 sedan will ride on the new Scalable Systems Platform (SSP) as the current MEB platform will be phased out. An 800V electric architecture and new VW.OS software architecture are planned. Another key aspect is the new product development process that is aimed at reducing development time by 25 percent (projects will be completed in 40 months instead of 54 months).
As for performance, the ID.4 sedan will be capable of accelerating from 0-100 km/h in less than five seconds, while range will be increased by more than 20 percent, which would put it at over 500 kilometres by North American standards. The 2022 ID.4 crossover can drive up to 422 kilometres.
Watch: Volkswagen ID. Buzz Makes Global Debut