Watch: Almighty Ford F-150 Raptor R is Coming Soon!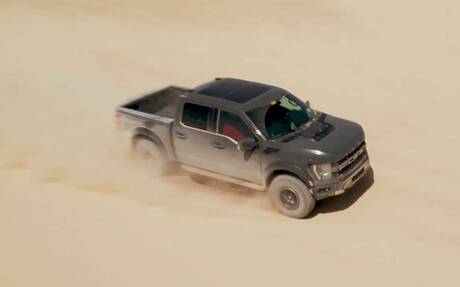 The new Ford F-150 Raptor unveiled last year came with the promise of an even more powerful and more extreme variant called Raptor R. A supercharged 5.2-litre V8 engine is all but confirmed at this point.
During a media event for the Bronco Raptor in the desert of Southern California this week, the company gave journalists a quick but loud preview of this awesomely outrageous and capable truck.
Alas, The Car Guide was not on hand, but you can still see and hear the Raptor R doing sprints and donuts in the sand courtesy of this tweet by Ford CEO Jim Farley:  
Can't wait to share more details about F-150 Raptor R later this year. The V8 sounds amazing! #RaptorR pic.twitter.com/qTOxKvp1ll

— Jim Farley (@jimfarley98) June 14, 2022
Man, what do you think of that? Sounds pretty fantastic, doesn't it? Squarely aimed at the 702-horsepower Ram 1500 TRX, the new F-150 Raptor R will feature the same Predator engine as the Mustang Shelby GT500. It remains to be seen how many of those 760 ponies it will keep for itself.
Based on a copy of a window sticker that recently surfaced online, we also know that a 10-speed automatic transmission, electronic locking rear differential (4.10:1 ratio) and 37-inch BF Goodrich All-Terrain KO2 tires are part of the package. Ditto for electronically controlled Fox Live Valve shocks.
Expect the F-150 Raptor R to use the largest fuel tank Ford has to offer, with a capacity of 136 litres. Naturally, it will burn a lot more gas than the regular Raptor, which is rated at 15.3-15.8 L/100 km when equipped with 37-inch tires—in normal operating conditions and favourable weather, of course. Incidentally, the Ram 1500 TRX needs just shy of 20 L/100 km.
Clearly, the timing for this monster could hardly be worse, especially with gas prices likely to reach mind-boggling new heights by the end of the summer. Keep following The Car Guide in the next few weeks so you don't miss the debut of the 2023 Ford F-150 Raptor R.
Watch: 2021 Ford F-150 Raptor Makes Official Debut