Bugatti Finally Delivers First of Ten Centodiecis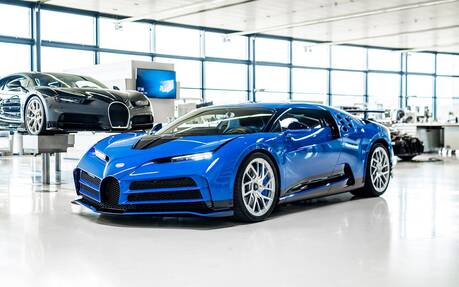 Bugatti wowed visitors at the Pebble Beach Concours d'Elegance in the summer of 2019 with the introduction of the all-new Centodieci, a very exclusive car based on the Chiron that pays tribute to the classic EB110 from the early 1990s.
Just how exclusive are we talking about? Well, as mentioned in the title above, only 10 units were up for grabs, each one priced from $9 million USD (approx. $11.7 million CAD). That's more than double the price of the Chiron, yet far cheaper than the one-of-one La Voiture Noire. 
After a long delay caused by the pandemic, the Centodieci's testing program ended a few weeks ago, and the first customer example has now finally been delivered to its happy owner.
The car is finished in the same shade of blue that the EB110 premiered with (also found on the walls of the Campogalliano factory where production took place). And you know what? The buyer still owns a copy of the classic, as you can see in the pictures.
Some of the design elements inspired from the EB110 include the shape and the arrangement of the front grilles, the hidden A-pillars on each side of the windshield and of course the new side air intakes with five round openings. The wheels received the same Sport Silver finish as the EB110.
Inside, the quilted, chessboard-like pattern found on the seats, roof liner, door panels, centre console and floormats was first established in the EB110. According to Bugatti, it took 16 weeks to complete that particular interior, not to mention the entire year that required its development.
"After two years of relentless development, we have refined the Centodieci to the standard our customers expect of all Bugatti models," said Bugatti Automobiles president, Christophe Piochon.
What about the engine? The quad-turbocharged 8.0-litre W16 has been retuned to deliver 1,577 horsepower (a gain of 99 horsepower over the standard Chiron) and weight has been reduced by 44 pounds. Acceleration from 0-100 km/h takes 2.4 seconds, which is one tenth quicker, and 0-300 km/h is completed in 13.1 seconds, a half-second improvement.
No need to say more, really. Just marvel at the car in the photo gallery at the top of the page.