Alfa Romeo Giulia Speciale Gets 15 Units Only for Canada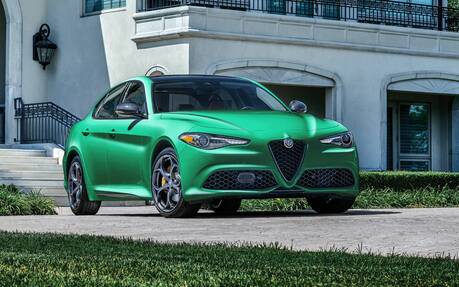 Alfa Romeo is using the Canadian Grand Prix this weekend to unveil a limited edition of the Giulia compact sedan. All 15 units will be reserved for customers in Canada and painted in an exclusive Verde Montreal Tri-coat colour that was previously only available on Quadrifoglio models.
The Giulia Speciale is based on the Veloce model with Q4 all-wheel drive and features the Quadrifoglio's adaptive suspension as standard. This suspension technology scans the road and quickly adjusts shock valving to deliver greater handling characteristics at speed while maintaining a comfortable ride.
Other than that Verde Montreal, the exterior of the car stands out with black badging, grille and mirrors caps. Staggered 19-inch dark wheels with yellow calipers and carbon-fibre side sills provide an aggressive stance.
Inside, standard leather dash, steering wheel, centre armrest, shift lever and upper door panel coverings are laced with red stitching. Carbon-fibre accents cover parts of the dash, doors and centre console. This is complemented by black leather sport seats and a Harman Kardon premium audio system.
The engine is the same as the Veloce models. The Giulia Speciale features a turbocharged 2.0-litre four-cylinder that produces 280 horsepower and 306 pound-feet of torque via an eight-speed automatic transmission. It accelerates from 0-100 km/h in 5.1 seconds, according to Alfa Romeo.
"Alfa Romeo and the City of Montreal have a proud connection to each other, and the new Giulia Speciale model enhances that relationship by providing consumers with an unrivaled driving experience and a head-turning appearance unique to Canada," said Larry Dominique, head of Alfa Romeo, North America.
Pricing for the 2022 Alfa Romeo Giulia Speciale starts at $71,995 plus a destination charge of $2,095. Before those 15 units begin to arrive in dealerships later this month, visitors in Montreal can take a look at the car during the Formula Peel event, which ends on Sunday.