The Car Guide's Best Buys for 2022: Porsche Panamera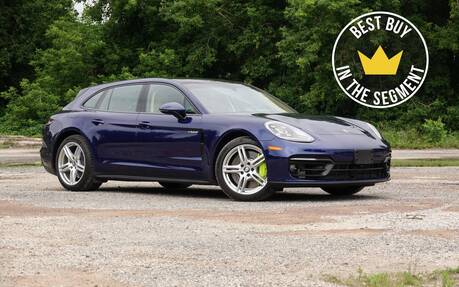 Every year, The Car Guide unveils a list of Best Buys covering all the different vehicle categories in the industry.
Full-size luxury sedans are flagship models that people turn to for regal comfort and opulent interiors. In this market segment, the German automakers lead the way by a mile over the competition.
The Winner
For 2022, the Porsche Panamera repeats as our Best Buy award winner. Exceptional selection is the main reason why, starting with gasoline V6 and V8 engines in addition to plug-in hybrid powertrains. Don't worry about performance: even the base Panamera packs 325 horsepower. At the top of the range is the Panamera Turbo S E-Hybrid, which combines a turbocharged V8 with an electric drive unit for a total of 690 horsepower.
The sedan is joined by a wagon called Sport Turismo, so if you hate SUVs that particular body style could be tempting. Inside, top-notch materials abound, and build quality is superb. The rear seats might be a little too tight for family duties, mind you. 
Other Finalists
The BMW 7 Series is our runner-up for 2022. Remember how it debuted years ago with a large front grille that rubbed people the wrong way? That's nothing compared to the massive nostrils on the brand's new electric vehicles as well as the 4 Series coupe. Similar to Porsche, BMW offers a plug-in hybrid variant, although with just 389 horsepower on tap, the focus of this one is more about comfort and efficiency than all-out performance. Both competitors can travel up to 27 km on battery power alone.
Purists and big-displacement enthusiasts can still turn to the 6.0-litre V12 engine producing an impressive 600 horsepower. Identical potency in a different flavour can be found in the BMW Alpina B7 model, which houses a turbocharged 4.4-litre V8.
As for third place, we picked the Audi A8, arguably the most conventionally styled of the bunch. The large sedan from Ingolstadt may not revolutionize the segment, but it continues to stand out with impeccable road manners, an exquisite cabin and lively performance especially in S8 trim.
Note: We had not yet tested the new Mercedes-Benz S-Class when the time came to make our picks for the 2022 Best Buy awards. The order could change in 2023.