2022 Volkswagen Jetta and Jetta GLI: More Power and Efficiency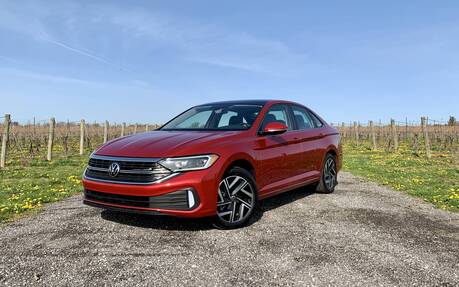 The 2022 Volkswagen Jetta and Jetta GLI are a bit late to the party as rival automakers have already launched some of their 2023 models. You should still care about them because they are both fresh from a mid-cycle update to the seventh generation that originally debuted in 2019.
The Car Guide was on hand for their Canadian media launch in Niagara-on-the-Lake, Ontario a short while ago, so check out our first impressions.
New Engine for Jetta
The most significant change for 2022 can be found under the Jetta's hood. Gone is the turbocharged 1.4L four-cylinder engine that produced 147 hp and 184 lb-ft. of torque. It's been replaced by a slightly bigger 1.5L unit shared with the Taos, Volkswagen's brand new small crossover. Output is therefore increased to 158 hp, a gain of 11 hp. Peak torque remains unchanged, though.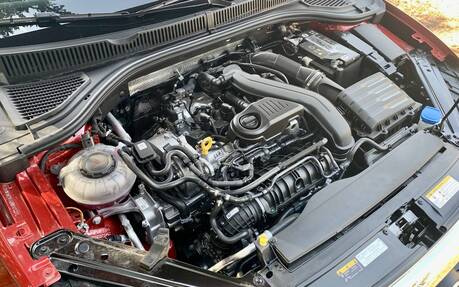 Recommending a vehicle that features a new powertrain is always tricky, but you have to know that this 1.5L engine is 85 percent identical to the previous 1.4L mill, as VW Canada's head of public relations, Thomas Tetzlaff, told us. In fact, few drivers will notice the difference in terms of sound or performance. It might as well be an afterthought for most.
Even though manual transmissions keep disappearing across the auto industry, Volkswagen sticks with one in the Jetta. Trendline and Comfortline models come standard with the six-speed mixer, while the eight-speed autobox is available for an extra $1,400. The top-of-the-range Highline offers the latter exclusively.
While bigger and more Americanized than ever, the 2022 Jetta is still pleasant to drive—more so than fairly boring alternatives such as the Toyota Corolla, Kia Forte and Hyundai Elantra. It's just a bit livelier overall than these other compact sedans, and with the base Golf not coming back the Jetta suddenly looks more appealing. The new Taos is fine, but it's not really the fun driver VW enthusiasts were hoping for.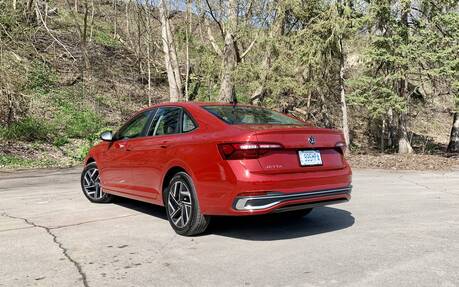 More Tech Inside
Up until last year, the top-line Jetta was the only model to feature a fully digital instrument cluster. The others had to settle for analogue gauges. With the 2022 update, you can find one across all trim levels, more specifically an eight-inch display on Trendline and Comfortline models, and a 10-inch, fully configurable Digital Cockpit Pro on Highline and GLI models. The information is clear and easy to read.
Other changes to the 2022 Jetta include a redesigned front grille and bumpers, plus three new body colours—Kings Red Metallic, Oryx White Metallic and Rising Blue Metallic. There's a $1,400 Sport Package which can be added to the Comfortline. It includes 17-inch wheels, a sport bumper, sport suspension and 10-colour ambient lighting.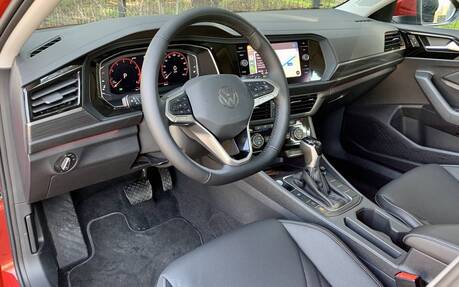 What doesn't change is the Jetta's huge trunk. A lot of folks get rid of their cars and turn to SUVs when their family expands, but this compact sedan offers ample cargo space by any account.
Affordable and Efficient
As you know, inflation is a major problem at the moment, but the 2022 Volkswagen Jetta is priced to please. The base model starts at $22,895, which is quite competitive in the segment, while Comfortline and Highline models come in at $25,895 and $29,895, respectively. Keep in mind that these prices do not include $1,750 destination.
There's more good news for budget-minded customers at the pump: the new 1.5-litre engine is not only more powerful but also more fuel-efficient. Natural Resources Canada rates it at a combined 6.9 L/100 km with the manual transmission (unchanged from 2021) and 6.8 L/100 km with the automatic (previously 7.1 L/100 km). Even better, the engine is calibrated to run on regular gasoline instead of the premium stuff.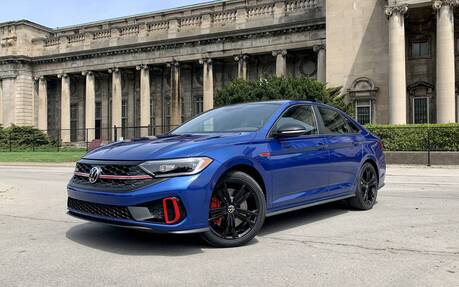 Jetta GLI Makes Convincing Case
We're not trying to be cynical here, but you have to admit that passion is something that's hard to find in today's automotive marketplace. Thank God for brands like Volkswagen that continue to build and sell driver's cars. In addition to the sensational Golf GTI and Golf R, the lineup includes the Jetta's sportier variant, the Jetta GLI.
The formula stays pretty much the same for 2022 with only a few cosmetic tweaks to the front and rear fascias, plus a new set of black 18-inch wheels. In our opinion, the silver grey alloys from the VW options catalogue would be a nicer fit.
On the road, the Jetta GLI makes good use of a turbocharged 2.0L engine producing 228 hp and 258 lb-ft. of torque (numbers that are slightly down from the Golf GTI). The limited-slip differential works great and so does the steering when attacking corners. A six-speed manual transmission is standard and a seven-speed DSG dual-clutch transmission is optional.
All in all, the Jetta GLI strikes a perfect balance between the practical sedan you need and the sporty car you dream of.
Test drive report
Test model

2022 Volkswagen Jetta

Trim level
Highline (auto)
Price range
$22,595 – $32,995
Price as tested
29 595 $
Warranty (basic)
4 years/80,000 km
Warranty (powertrain)
5 years/100,000 km
Fuel economy (city/highway/observed)
7,7 / 5,7 / 6,8 L/100km
Options
N/A
Competitive models
2022 Hyundai Elantra, 2022 Honda Civic, 2022 Kia Forte, 2022 Mazda Mazda3, 2022 Nissan Sentra, 2022 Subaru Impreza, 2022 Toyota Corolla
Strong points

Practical trunk
Super fun to drive (GLI)
Manual transmission still around
Competitive pricing

Weak points

Reliability of 1.5T engine remains a concern
No heated steering wheel (GLI)
No hybrid variant

Editor's rating
Fuel economy
Quite good for a compact sedan.
Comfort
Despite its status as an entry-level car, the Jetta is a proper tourer.
Performance
The GLI's 2.0T engine remains a strong and compelling performer.
Infotainment
The system is easy to use.
Driving
While Americanized in many ways, the latest Jetta is still pleasant to drive.
Overall
With the base Golf not coming back, the Jetta proves more appealing than ever.