Toyota Crown Reveal Might Come Soon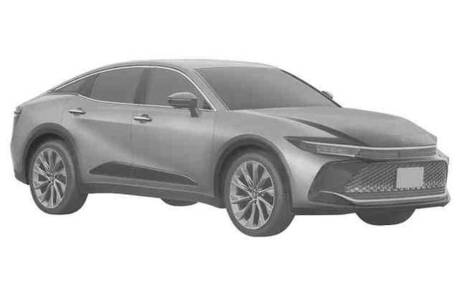 While credible reports from this spring hinted at a new, North American-bound Toyota model called Crown, a recent leak sheds a bit more light on the matter.
Shared by Japanese website Design Watch and the Instagram account predict_cars, the images you see here look like patent designs similar to the ones we usually find online.
They show a muscular, high-riding sedan with some cladding on the wheel arches and lower body. Styling is quite unique, although the front end is vaguely reminiscent of the Venza crossover.
Large alloys highlight the side view, while the smooth roofline blends into the rear section. It's not clear whether the car has a trunk lid or a liftgate. Full-width taillights are also part of the mix.
Why should we even care about a sedan like this one? The full-size Avalon was dropped in Canada for the 2022 model year and it won't return to the U.S. for 2023, either. Large cars are a dying breed, indeed.
But here's the thing: Toyota is said to be planning both a sedan and an SUV with the Crown badge and similar looks. It would make more sense for the latter to be offered here.
Then again, where could it possibly fit among the RAV4, Venza, Highlander and Sequoia? And don't forget about the Grand Highlander that's supposedly coming next year (along with its luxury cousin, the Lexus TX).
About the Crown, Reuters reported back in April that it would launch in North America around summer of 2023 with a hybrid powertrain. An official debut could take place as early as next month.
As always, keep following The Car Guide for all the latest news and reveals.
Watch: 2022 Toyota C-HR XLE Premium Review