2023 Electrified Genesis G80: Smooth Current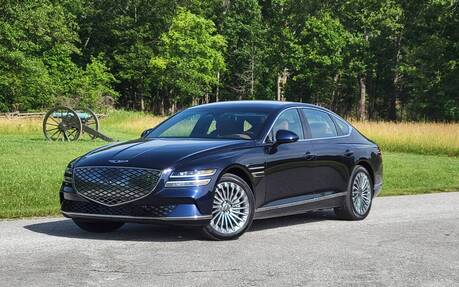 The Genesis G80 is in a class of its own. It reminds us of that appetite North Americans once had for mid-size luxury sedans that emphasized on comfort, image and overall driving experience rather than versatility and sheer performance.
Like all automakers, Genesis is facing the great challenge of electrification - and its goal is to offer a lineup that runs solely on electrons by 2030. The small GV60 was recently introduced, and the GV70 - the brand's most popular model today - will soon receive its magnets.
The term "electrified" is being thrown around a lot these days in the automotive industry. But for the G80, it simply meant replacing the internal combustion engine with an electric motor in the front, adding an electric motor in the rear and fitting a battery under the floor.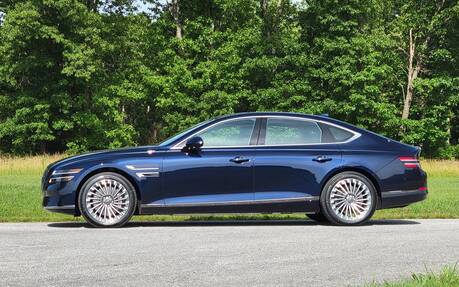 A "Lincolnesque" Silhouette, Quintessential Driving Environment
Unlike other high-end electrified cars on the market today that offer flashy, gaudy designs, the Electrified G80 takes a more Zen-like approach. Only a few details distinguish it from its combustion engine counterpart. For one thing, the front grille is completely shut and houses the car's charging port, which is surprisingly well hidden. Also, the rear lower bumpers that would integrate the exhaust tips are now flat. That's it!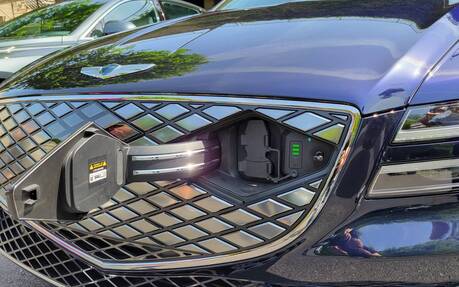 Inside, the Electrified G80 copies everything from the gas-powered G80, providing a generous environment for the senses where attention to detail and soundproofing are paramount - in fact, the cabin is even more peaceful now that the electric motor has taken up residence under the hood. There's also exceptionally comfortable seating and good overall space for all passengers. The quality of materials and textures is exemplary, as it is throughout the Genesis lineup, although the choice of colours could be questionable for some - our test vehicle's maroon trim wasn't the most modern of the palette.
The ICE Genesis G80 offers 371 litres of cargo space in its trunk. Since engineers had to adapt an electric drivetrain in the rear to the existing platform, 65 litres were slashed from this volume.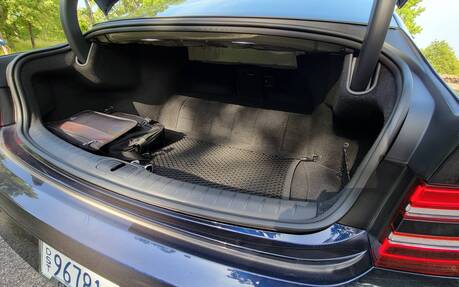 As Smooth as It Gets
The pair of electric motors produces a combined 365 horsepower and 516 lb-ft of torque distributed to all four wheels. These electric motors are connected to an 87.2 kWh battery. If these specs are more conservative than the Audi e-tron GT, Mercedes-Benz EQS and far behind the Tesla Model S, the Electrified G80's acceleration performance is commendable. Especially when you consider that it tips the scales a bit more than its combustion engine counterpart, with 5035 pounds versus 4453 pounds with the turbocharged 3.5-liter V6. The electric variant also proved to be quite frugal during our entire test-drive, which included a variety of spirited driving routes.
While it makes slightly less power than the gas-powered G80, you will only experience the symptom at higher speeds, an area that the average G80 driver is unlikely to visit.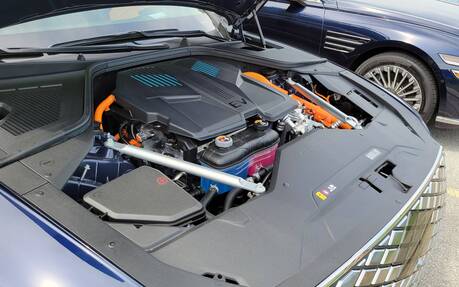 In terms of dynamics, the Electrified G80 won't give you goose bumps, but rather a smooth and comfortable experience. It has its own suspension and steering calibration package - steering that provides satisfactory weight and feel in the wheel that keeps the driver confident and the maneuvers precise.
In terms of range, Genesis points out that you can get 454 kilometres out of a single charge. Recharging takes 22 minutes at a Level 3 terminal if you want to bump the battery from 10 to 80%, thanks to a maximum charging capacity of 187 kW.
As we must point out, all this happens in ideal conditions. But Genesis engineers reminded us that they did winter testing in Northern Quebec, which is an exceptionally hostile environment for electric vehicles...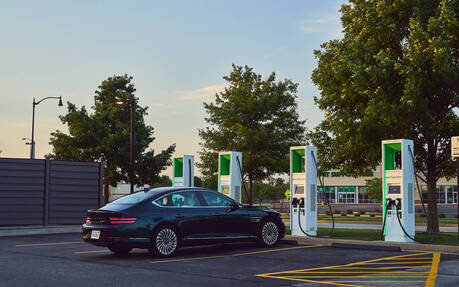 The midsize luxury sedan is slowly moving toward electrification with a speculative future. At Genesis, it hasn't been given a dedicated electric platform, or even a shared one, which may mean that it's being approached with great caution. But the final product is well executed; the G80 has been successfully electrified while keeping all the great qualities it is known for, and keeping its power consumption reasonable in the process.
The Electrified G80 starts at $105,000 in Canada including freight and delivery, with a $1,700 surcharge for matte paint selections.
Test drive report
Test model

2023 Genesis G80

Trim level
Electrified
Price range
< $80,000
Price as tested
N/A
Warranty (basic)
5 years/100,000 km
Warranty (powertrain)
5 years/100,000 km
Fuel economy (city/highway/observed)
N/A
Options
N/A
Competitive models
Audi A6, Audi A7, Audi e-tron GT, BMW 5 Series, Jaguar XF, Lexus ES, Maserati Ghibli, Mercedes-Benz E-Class, Porsche Taycan, Volvo S90
Strong points

Confort de roulement exemplaire
Habitacle très bien ficelé
Élégance authentique

Weak points

Puissance inférieure aux rivales électriques
Espace de chargement limité

Editor's rating
Fuel economy
Nous avons atteint 17.3 kWh/100km, ce qui est très raisonnable pour un véhicule de ce format
Comfort
La G80 Électrifiée offre une sellerie des plus confortables à l'avant comme à l'arrière
Performance
Beaucoup de couple à bas régime
Infotainment
Le système est très complet, mais il faut s'accoutumer aux multiples menus
Driving
Une conduite douillette, mais pas sportive
Overall
Pour une berline de luxe électrique, la G80 Électrifiée performe en tout confort