Here's the New BMW M3 Touring We Can't Have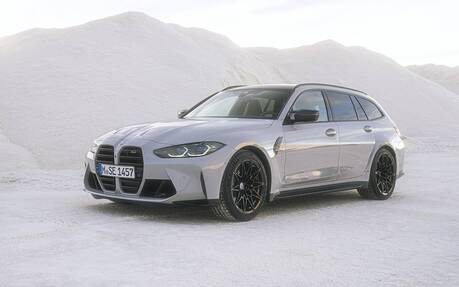 Announced in August of 2020, the all-new BMW M3 Touring marks the first time the German automaker's high-performance compact car is available as a wagon. And a sharp-looking one, too.
It will go on sale in the U.K., Europe, Japan, South Korea, Australia and New Zealand later in 2022, but sadly not in North America despite a petition that was launched last year.
Yeah, we're bummed. Sure, super-sporty wagons are niche products and BMW understandably prefers to sell the X3 M instead, but performance enthusiasts—especially those who start a family—may want increased cargo space and versatility while still enjoying the driving characteristics of a car, not an SUV.
The BMW M3 Touring is based on the 3 Series Touring model that's sold overseas and equipped with the same AWD powertrain as the M3 Competition. Under the bonnet, er, hood is a twin-turbocharged 3.0-litre six-cylinder engine that cranks out 503 horsepower and 479 pound-feet of torque.
Power is controlled by an eight-speed automatic gearbox and distributed among all four wheels via the xDrive system. Similar to the sedan, a 2WD mode is available (with ESC turned off) for those occasions where big skids are possible, like on a track.
The M3 Touring is obviously heavier, but definitely not a slouch. BMW claims 0-100 km/h acceleration in 3.6 seconds, which is just a tenth slower. Making sprints even more fun is a quad exhaust system delivering thrilling sound effects.
The main advantage of this wagon versus the sedan or the M4 coupe is the 500-litre trunk that can expand up to 1,510 litres by folding the rear seats (in a practical 40/20/40 split). What's more, the rear window opens separately, so you don't always have to lift the power-assisted hatch to load items into the car.
From a design standpoint, the M3 Touring adds roof rails and features new 19-inch front and 20-inch rear wheels. The interior gets the same updates as the 2023 3 Series starting with the new BMW Curved Display combining a 12.3-inch digital instrument panel with a 14.9-inch touchscreen. Powering the latter is the eighth generation of iDrive.
Oh, and if we were in the shoes of those lucky customers who will have access to the M3 Touring, we'd seriously consider replacing the standard M sport seats in Merino leather by the race-style M Carbon buckets you see here. They reduce weight by about 20 pounds and provide extra lateral support while preserving long-distance comfort, or so says BMW.
Watch: 2021 BMW M5 Competition Review