Honda Shows 2023 CR-V Interior Ahead of July 12 Debut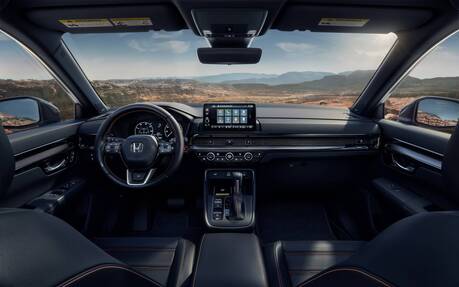 We pretty much know what the next-generation Honda CR-V will look like thanks to leaked patent drawings plus an official teaser provided by the company a few weeks ago.
The new CR-V will go on sale in the second half of this year as a 2023 model. Ahead of its debut on July 12, Honda today released a picture showing the entire front section of the cabin.
Right away, we can see a number of similarities with the latest Civic. This includes the dashboard design with the horizontal mesh grille hiding the air vents, as well as the new-look steering wheel, digital instruments and high-mounted centre touchscreen.
Down low on the console, there is a wireless charging pad for smartphones, and the shifter is located on the right side to allow easier access to controls like the drive mode selector, hill descent control and electronic parking brake.
Based on the picture, it's not clear where the cup holders are located exactly, but the centre armrest looks big and the storage compartment underneath probably is, too. Meanwhile, the perforated leather seats feature nice contrast stitching and position memory, at least in the model shown here.
"Sporty and modern. Fine Craftsmanship. Upscale touches. Even more space. America's best-selling SUV of the past quarter century is raising the stakes with a more premium, comfortable and high-tech interior that's perfect for daily life and fun weekend adventures," Honda says.
Powertrain and chassis details will be shared later, but as previously reported, there will be a CR-V Hybrid for the first time in Canada, built at Honda's Alliston assembly plant in Ontario. Even though the CR-V is one of the most fuel-efficient compact SUVs you can buy right now, saving gas is always appreciated, particularly with the current prices at the pump.
Come back here on July 12 for everything you need to know about the new 2023 Honda CR-V. We'll have lots more pictures and a video, as well.
Watch: Honda HR-V is All-New for 2023