Polestar 5 is a Future 872-Horsepower Swedish Star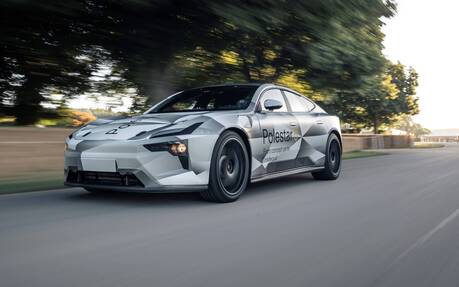 At the Goodwood Festival of Speed today, Polestar unveiled a prototype of its future flagship model, the Polestar 5. It's a high-performance electric four-door coupe based on the Precept concept shown in 2020.
The company likens this vehicle to the world's top sports cars that achieve a formidable power-to-weight ratio in an exclusive package.
"Polestar 5 is shaping up to be a superb 4-door GT and a true Polestar at heart," said Pete Allen, head of Polestar U.K. R&D. "The platform combines low-volume performance car attributes with modern technological advances to bring light-weight, high-rigidity sports car chassis technology into mass production."
The company is working with a new mechanical platform to design and develop a unique bonded aluminum chassis. Along with an 800V architecture, a new rear electric motor provides superior output and combines with a high-output front electric motor.
Just how much power are we talking about here? The answer is 872 horsepower, which is way more than sporty electric cars like the Audi RS e-tron GT and all variants of the Porsche Taycan. Peak torque is targeted at 663 pound-feet. By comparison, the current Polestar 2 generates less than half of that output at 408 horsepower. The torque gap isn't so large though, since it can deliver 487 pound-feet.
Unfortunately, we don't have any more technical information about the Polestar 5. The brand is not yet revealing its weight, acceleration or battery capacity, let alone maximum range. The car is slated to launch sometime in 2024, meaning it will arrive after the Polestar 3 and Polestar 4 crossovers (the latter will be a coupe-like variant of the former).
If you want to learn more, Polestar's YouTube documentary series shows how the company is transforming the Precept concept into the production Polestar 5. You should definitely check it out. Oh, and production will take place in China at a new assembly plant aiming to be carbon neutral and "one of the most intelligent and connected automotive production facilities in the world."